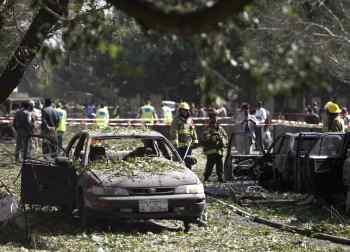 At least seven people were killed and over 90 injured in a suicide car bomb blast outside the North Atlantic Treaty Organisation's (NATO) headquarters in Kabul on Saturday.
The presidential palace and several embassies are also located in the area. The blast comes just five days before presidential elections and against a backdrop of increased violence by the Taliban.
The blast shook buildings in the Wazir Akhbar Khan diplomatic district of the capital, home to the United States and British embassies and the headquarters of the NATO-led International Security Assistance Force.
Afghanistan President Hamid Karzai condemned the attack, saying people would not be deterred from voting.
"The enemies of Afghanistan try to create fear among people in this election period but people still realise the importance of going to ballot boxes to cast their votes," Karzai was quoted by the BBC as saying.
The Afghan defence ministry issued a statement later saying that it believed seven people had been killed. The blast hit the heavily fortified area of the city at about 8.30 am local time on Saturday.
"It was a suicide bombing carried out in a car right in front of ISAF [the NATO-led peacekeeping force]," Afghan defence ministry spokesman General Mohammad Zahir Azimi said, speaking from the scene.
Several ISAF soldiers were reportedly among the injured.
The Taliban has vowed to disrupt the August 20 poll.
Image: A scene from the blast in front of the NATO headquarters in Kabul | Photograph: Ahmad Masood/Reuters