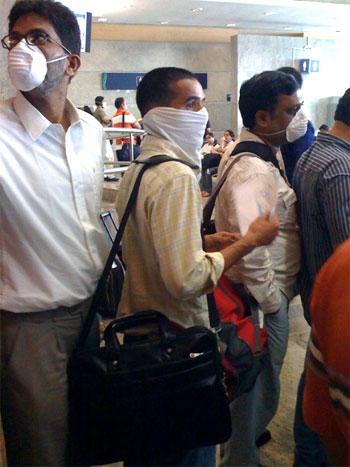 The cities of Mumbai and Pune have been overwhelmed by swine flu phobia.
Unscrupulous pharmacists are reported to be making a killing, cashing in on citizens's fears, selling masks at many times their price.
Even though the masks offer protection only for a couple of hours, one can spot many residents of these western Indian cities covering their faces thus.
On Friday morning, a reader discovered she was not the only passenger sporting a mask at Mumbai airport. Her photograph reveals other passengers covering their faces too as they queue up to board a flight.
If you have shot photographs like these of masked residents in these times of swine flu or taken any other newsworthy pictures, please do mail them to newsdesk@rediff.co.in We will be happy to publish them.