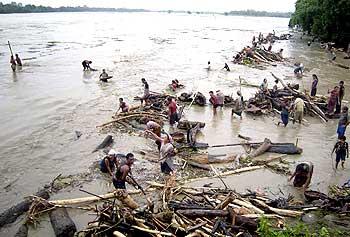 Flood in Assam on Thursday claimed its first casualty with two persons drowning in worst-hit Dhemaji district as several embankments breached and Brahmaputra and its tributaries were flowing above danger levels.
A father-son duo drowned when a country boat capsized in river Komotia in Dhemaji at four pm, official sources said here. Ten others in the boat managed to swim to safety. The bodies are yet to be traced.
The Jiadhol river in the district breached embankments in three places affecting 80 villages and over 6,000 families.
The district administration also issued an alert with reports that the North East Electric Power Corporation had opened sluice gates of its dam on river Ranganadi which might create havoc in Dhemaji.
The sources said that the situation was critical in upper Assam's Dhemaji, Lakhimpur and Dibrugarh districts with rivers flowing above the red mark following heavy rain in the foothills.
In Lakhimpur, Kakoi and Ranganadi were flowing above the danger level and breached embankments affecting more than 40 villages.
Rail communication was disrupted after flood waters submerged tracks at Samarjan, while NH-52 connecting Arunachal Pradesh was also disrupted following inundation in the Lakhimpur-Dhemaji section.
National Disaster Response Force personnel were engaged in rescue operation, the sources added.
Image: People salvage wood from the flooded Ronganadi river after a monsoon rain in Lakhimpur district in Assam
Photograph: Reuters
Text: PTI