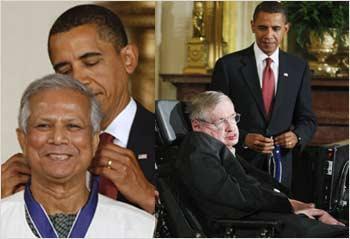 British scientist Stephen Hawking and Bangaldeshi Nobel laureate Muhammad Yunus are among the 16 eminent personalities who were on Wednesday conferred 'Presidential Medal of Freedom', America's highest civilian award, by President Barack Obama.
Hawking was awarded the Medal of Freedom in recognition of popular science publications and for making his research accessible to all members of the public.
Yunus, who won the Nobel peace prize in 2006 for his role in poverty alleviation through micro-finance scheme in Bangladesh, has been honoured for altering the face of finance and entrepreneurship.
"This is a chance for me -- and for the United States of America -- to say thank you to some of the finest citizens of this country, and of all countries," Obama said, while presenting them the awards.
Among others who were conferred with the prestigious awards are South African anti-apartheid activist Desmond Tutu, breast cancer crusader Nancy Goodman Brinker, medical campaigner Pedro Jose Greer and tennis legend Billie Jean King.
Civil rights leader Rev. Joseph Lowery, native American tribal chief Joseph Medicine Crow, former Supreme Court Justice Sandra Day O'Connor, actress Chita Rivera and cancer researcher Janet Davison Rowley were also honoured.
Posthumous medals were conferred on former Republican congressman Jack Kemp and gay rights campaigner Harvey Milk.
Image: US President Barack Obama presents the Medal of Freedom to renowned physicist Stephen Hawking (r) and microfinance pioneer Muhammad Yunus (l) in White House on Wednesday
Photograph: Jim Yong / Reuters   Text: PTI