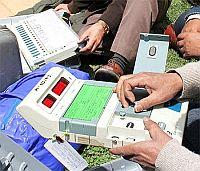 In the backdrop of allegations by certain political parties that the Electronic Voting Machines could be hacked, the Election Commission on Thursday said EVMs were and are tamper proof.
"In the view of the Election Commission, EVMs were and are tamper proof. Nobody has been able to demonstrate that they can be tampered with," Chief Election Commissioner Naveen Chawla told mediapersons in New Delhi.
On the demand by some parties for paper printouts of ballots, Chawla said, "We believe a paper trail would foil the essence of democracy, which is secrecy of individual ballot, and it would be seriously compromised."
"The whole purpose of democracy is that individuals' preference must be secret and it is the whole pillar of free, fair and transparent election process," he said.
Chawla, who along with other Election Commissioners, reviewed preparations for Maharashtra assembly elections, said the final electoral rolls for the state would be published on August 22.
There was no demand by any representative of the registered state and Central political parties that polls in Maharashtra should be postponed in view of swine flu, he said.
© Copyright 2020 PTI. All rights reserved. Republication or redistribution of PTI content, including by framing or similar means, is expressly prohibited without the prior written consent.