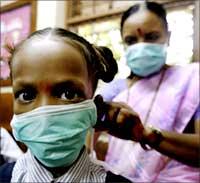 A 26-year-old teacher became the first swine flu fatality in Bengaluru while an infant and two women died in worst-hit Pune on Thursday, taking the nationwide death toll to 21 even as Prime Minister Manmohan Singh said panic should not created and the government is doing its best.
The rise in flu cases in the country was discussed threadbare at the meeting of the Union Cabinet in Delhi, during which Singh asked Health Minister Ghulam Nabi Azad to work towards restoring confidence of the people and ensuring that panic is not created.
Sources said Azad made a presentation on the flu situation before the Cabinet following which the issue was discussed in great detail.
Expressing concern over the swine flu situation, Singh is understood to have said that this was a major problem before the country and the government sector is doing its best.
Azad told mediapersons after the meeting, "The Central and the state governments are taking all possible measures. For the past one week, we have been reserving places in government and some private hospitals. We are also looking for some private laboratories since they are now needed."
The Bengaluru teacher, identified as Roopa, who worked in a private school, had tested positive for the virus and was also undergoing treatment at St. Philomena hospital for respiratory disorders, health authorities said. She died yesterday.
An 11-month-old boy Rutwik Kamle, a 37-year-old woman Archana Kolhe and 75-year-old Bharti Goyal died in Pune, where the toll mounted to 13.
Image: A teacher helps a student wear a face mask in a classroom at a school in Mumbai
Photograph: Punit Paranjpe / Reuters