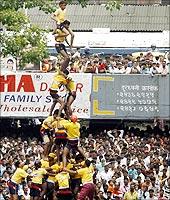 With swine flu deaths in Maharashtra on the rise, political parties have appealed to the people to organise low-key 'dahi handi' programmes on Janmashtami to avoid the spread of the virus.
"Shiv Sena executive president Uddhav Thackeray has appealed to the people to celebrate Janmashtami at home and desist from crowding the streets in the backdrop of the situation," Sena spokesperson Neelam Ghore said.
Janmashtami will be celebrated across the country on Friday. Uddhav said health was the first priority and "we should restrain from indulging in big celebrations to avoid the crowd".
Nationalist Congress Party legislator Jeetendra Awhad, who organises the popular 'dahi handi' programme in neighbouring Thane, said he had spoken to Uddhav and had agreed that there should be no fanfare during 'dahi handi' celebrations.
"Public health is our primary concern," he added.