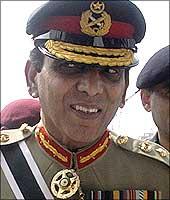 Pakistan's powerful spy agency Inter Services Intelligence has been restructured by the government by weeding out 32 senior officers of the rank of brigadiers and colonels in a move to make it trim, a media report said on Wednesday.
The retrenchment exercise in the agency has been carried out to make it 'more efficient and vibrant', The News daily claimed, saying that the process will continue for two years. Thirty-two officers of the rank of brigadier and colonel have been retired from the agency and 'other officers who have not proved their utility' will be shown the door in months to come, the report said.
The report said the revamp had been undertaken as the spy agency had expanded out of proportion in the recent years and many top level officers continued to serve in the organisation despite attaining superannuation.
The report made it clear that the agency would continue to be under the command of the army. The report said the restructuring was an effort to bring into the ISI 'energetic and more dedicated personnel who can live up to the challenges of the modern age'.
The powerful spy agency had recently faced flak from American lawmakers, who alleged that ISI still maintained contacts with the Taliban and other militant organisations, a charge strongly refuted by the army.
"The organisation is also being trimmed in the manner the army was restructured three years ago without compromising its skill to defend the motherland," the report said. In view of this situation, departments of the agency were asked to offer their comments about the working of officers who had attained the age of retirement but were still working with it 'without putting in anything useful with regard to the assignments given to them', the report said.
Such officers were considered a 'burden on the organisation' and it was decided that they should be 'asked to relinquish their duties forthwith', the sources were quoted as saying. This 'retrenchment process' in the ISI will continue for at least two years though it will be carried out in 'an extremely careful manner', so that the agency's working did not suffer in any way, the report said.
The sources brushed aside the impression that 'pressure from any side' was the cause for the streamlining of the ISI. "No one could think in terms of exerting pressure with the incumbent command of the armed forces," a source was quoted as saying.
The ISI, currently led by Lieutent General Ahmed Shuja Pasha, is under the control of the army and has a large cadre of officers drawn from the military. Over the years, it has been accused of meddling in the country's political affairs. After General Ashfaq Parvez Kayani was made army chief by former President Pervez Musharraf, he took several steps to de-link the military from politics.
Image: Pakistan army chief General Ashfaq Parvez Kayani has tried to de-link military from politics | Photograph: Reuters