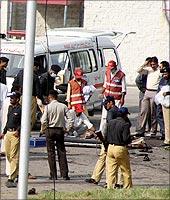 Pakistan has rejected reports that militants attacked its nuclear facilities at least thrice in the last two years.
"It is rubbish. These aspersions are factually incorrect and are part of typical propaganda campaign to malign Pakistan," The Nation quoted the Pakistan Army's chief spokesman Major General Athar Abbas, as saying.
Major General Abbas said Pakistan's nuclear establishments are secured through multi-layered security mechanism, and there was no chance of them falling into the hands of militants.
Earlier, a United Kingdom-based expert has claimed that the Taliban and the Al-Qaeda terrorists have attacked nuclear sites in Pakistan at least thrice in the last two years, amid global concerns about the safety of the country's atomic arsenal.
"Militants have recently attacked a number of Pakistan's nuclear facilities, including an August 21, 2008 incident at the Wah cantonment, widely understood to be one of Pakistan's main nuclear weapons assembly sites," Shaun Gregory, Director of the Pakistan Security Research Unit at the University of Bradford in the UK, said.
"The concern, however, is that most of Pakistan's nuclear sites are close to or even within areas dominated by Pakistani Taliban and home to Al-Qaeda," he wrrote in an article.
The article, "The Terrorist Threat to Pakistan's Nuclear Weapons", has been published in July issue of CTC Sentinel, published by the Combating Terrorism Centre, an independent educational and research institution based in the Department of Social Sciences at the US Military Academy, West Point.
"A series of attacks on nuclear weapons facilities has also occurred. These have included an attack on the nuclear missile storage facility at Sargodha on November 1, 2007, an attack on Pakistan's nuclear airbase at Kamra by a suicide bomber on December 10, 2007, and perhaps most significantly the August 20, 2008 attack," he said.
In the last year's attack, Pakistani Taliban suicide bombers blew up several entry points to one of the armament complexes at the Wah cantonment, Gregory said.
Because of 'India factor', he said, Pakistan with a few exceptions,  chose to locate much of its nuclear weapons infrastructure to the north and west of the country and to the region around Islamabad and Rawalpindi -- sites such as Wah, Fatehjang, Golra Sharif, Kahuta, Sihala, Isa Khel Charma, Tarwanah and Taxila.
"The Pakistani Taliban and Al-Qaeda are more than capable of launching terrorist attacks in these areas, including within Islamabad and Rawalpindi," Gregory said.
He said there is greater risk of the Pakistani Taliban or Al-Qaeda gaining access to nuclear weapons, components or technical knowledge.
It is widely accepted that there is a strong element within the Pakistan army and within the lead intelligence agency, the Inter-Services Intelligence, that is anti-Western, particularly anti-United States, and that there also exists an overlapping pro-Islamist strand, he noted.
This is attributed to the "Islamisation" of the Pakistan army, over the past several decades.
"No screening programme will ever be able to weed out all Islamist sympathisers or anti-Westerners among Pakistan's military or among civilians with nuclear weapons expertise."
Concluding that the risk of the transfer of nuclear weapons, weapons components or nuclear expertise to terrorists in Pakistan is genuine, he said the knowledge that such a transfer has occurred may not become evident until the aftermath of a nuclear 9/11 in Pakistan or elsewhere.
Image: Pakistani security officials examine the site of a suicide bombing at a gate of ordinance factory in Wah, on August 21, 2008.
Photograph: Faisal Mahmood / Reuters