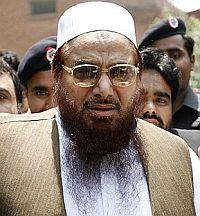 Stating that prosecution of "some individuals" of the Lashkar-e-Tayiba by Pakistan was "not enough," India on Wednesday demanded "severe action" against Hafiz Saeed, mastermind of Mumbai attacks, so that he does not remain a free man to incite more violence against the country.
"We have noticed that Interpol warrant is out for more people.... We certainly have welcomed the prosecution of some named individuals from the Lashkar-e-Tayiba but we don't believe that's enough," Minister of State for External Affairs Shashi Tharoor told mediapersons in New Delhi after a function.
Identifying Saeed as the "mastermind" of the 26/11 attacks, the minister said Saeed is the founder of both the LeT and Jamaat-ud -Dawa outfits which Pakistan has "backed."
"So we certainly expect to see some severe actions being taken against him instead of him wandering around a free and ready to incite more violence against India," Tharoor said.
He maintained that India wants to see "credible action" by Pakistan to bring the perpetrators of the Mumbai terror attacks to justice and dismantle the infrastructure of terror from which "these kind of attacks were launched on us."
Underlining that there is "no good and no bad terrorist," Tharoor said India wants to see action on "all fronts" against terror. "All terrorists have to be dealt with firmly. Whether they (terrorists) are attacking India, attacking Pakistan or Afghanistan, they should be dealt with," he said.
Hoping that Pakistan has a "very clear idea" of what India expects from it, Tharoor said, "There are many more things, we need to see happening."
He said India also hoped that Pakistani authorities will succeed in their attempts to bring down the terror threat to their own country. "In turn, we certainly wish them well in their attempts to bring down the terrorist threat to their country from within, particularly in other parts of Pakistan and Pakistan-Afghan border," the minister said.
Image: Jamaat-ud-Dawaah chief Hafiz Saeed