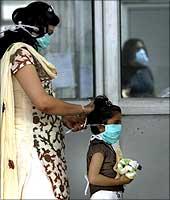 Swine flu claimed its 14th victim in India on Wednesday morning as Dr Rupesh Gangurde, who had been diagnosed with the deadly virus, died at the Nashik Civil Hospital. Gangurde, who is from Manmad, had been admitted to the hospital on August 10. This is Nashik's first swine flu death.
Earlier Shrawani Deshpande, 29, died at Sasoon Hospital in Pune. This is the seventh swine flu death in Pune, which is emerging as the swine flu capital of India.
Struggling to contain the spread of the deadly virus, the Centre has asked state governments to gear up their act to face the threat and dispatched Central teams to all states and union territories, to help them coordinate the preparedness.
Union Health Minister Ghulam Nabi Azad on Tuesday spoke to all the chief ministers and emphasised to them the need to step up preparedness.