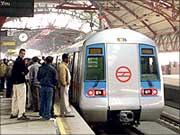 Thirty-nine passengers had a miraculous escape when a Delhi Metro train jumped tracks in the national capital on Wednesday afternoon.
The accident, the first of its kind in the Metro's history, came exactly a month after six persons were killed in an accident at its construction site in south Delhi's Zamrudpur area.
No one was injured in the mishap which took place at Dwarka station in south-west Delhi at around 3:20 pm.
Eight wheels of the train's front coach went off the rails soon after it started from the station, Delhi Metro spokesperson Anuj Dayal said.
The train was headed towards Yamuna Bank. He said the accident was because of a "manual error" by the train driver who should not have started the train at that time because there was no signal.
"There were 39 passengers on board at the time of the incident. None of them was injured as the train was at a slow speed," he said. To a question, Dayal said action will be taken against the driver.
According to a Metro official, the set of wheels of the front coach went six inches off the track. Delhi Metro has ordered an enquiry into the incident