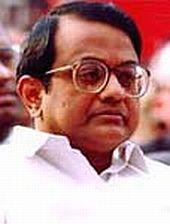 Union Home Minister P Chidambaram on Tuesday expressed confidence that the long-awaited Women's Reservation Bill would be passed by parliament this year.
"...I am confident that by the year end the Women's Reservation Bill will be passed," Chidambaram said after flagging off three women special EMU train services at the Tambaram railway station near Chennai.
The bill that provides for 33 per cent quota for women in the Parliament and state assemblies, has been hanging fire for long due to opposition by some parties, including Mulayam Singh's Samajwadi Party and Lalu Prasad Yadav-led Rashtriya Janata Dal.
Chidambaram said the government was giving individual attention to the needs of various sections of the society, including youth and women, and the introduction of ladies special trains, already launched in Mumbai and Kolkata earlier this month, showed it had a special place for women.
The ladies special services, to be operated during peak hours in the morning and evening, would greatly benefit women passengers, Southern Railways authorities said. The special trains were announced in the Railways Budget for this year.
Image: Union Home Minister P Chidambaram