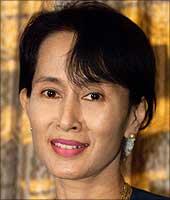 A court in army-ruled Myanmar today found pro-democracy icon Aung San Suu Kyi guilty of violating an internal security law and sentenced her to three years in prison with hard labour, but it was swiftly commuted to 18 months of house arrest by the country's military.
The court at the notorious Insein Prison here first gave a three-year jail term to 64-year-old Suu Kyi for allowing an American, John William Yettaw, on a 'divine mission' to stay at her home, but the sentence was immediately reduced to 18 months under a special order from junta chief Senior General Than Shwe, also allowing her to serve it at her Yangon home.
"Thank you for the verdict," a grim-faced Suu Kyi, attired in a traditional Burmese dress, was quoted as saying by the media after the court announced the sentence at the end of the globally condemned trial.
The government said Yettaw's presence in the home violated her house arrest. Suu Kyi said she does not know Yettaw or his plans and denies any wrongdoing.
"The outcome of this trial has never been in doubt," Jared Genser, her US-based lawyer said.
"The real question is how the international community will react. Will it do more than simply condemn this latest injustice?"
The order from Shwe commuting Suu Kyi's sentence said the government was doing so since she is the daughter of a revered figure, Gen Aung San, who played an instrumental role in bringing about the country's independence from British rule.
Suu Kyi will be allowed to meet with government-approved guests and have access to television and newspapers, it said.
If the opposition leader follows the terms, she might be released before the 18 months end, the order said.
In many ways, the court's decision is a continuation of Suu Kyi's current punishment as she has spent 14 of the past 20 years in one form of confinement or another – most recently under house arrest in a colonial-era lakeside home, Kyodo news agency reported.