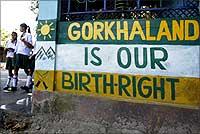 Centre agreed to repeal the Darjeeling Gorkha Hill Council with the Gorkha Janmukti Morcha fighting for a separate Gorkhaland state on Tuesday.
They claimed victory in the tripartite talks, with the Centre agreeing to repeal the Darjeeling Gorkha Hill Council Act of 1988 and drop the proposal to form a council for administering the hilly region under the Sixth Schedule of Constitution.

Both the Home Ministry and GJM spokesmen said the tripartite talks, the first with the new United Progressive Alliance government, were held in a free, frank and cordial atmosphere and the GJM agreed to offer "constructive cooperation."

Addressing a press conference alongwith Darjeeling's Bharatiya Janata Party Member of Parliament Jaswant Singh, GJM leader Amar Lama said his organisation will remain peaceful and democratic for further talks, "unless provoked by the West Bengal Government."

While a 13-member GJM team participated in the tripartite talks, the Centre's delegation was led by Home Secretary G K Pillai, and the West Bengal Government team by their Chief Secretary A K Chakrabarty. The next tripartite meeting was fixed on December 21 in Darjeeling.

To carry forward discussions in the meanwhile, the Centre sought to appoint an interlocutor. The GJM said it would approve the name after returning to Darjeeling as its president had not come for the talks.
The Centre also announced at the meeting to send a team to Darjeeling to review development works in the district and to understand the wishes of  the people.

Sources said both the Centre and the state government sought to allow elections of panchayat samitis, gram panchayats and municipal committee to restore democratic process in the region.
The GJM, however, wriggled out, stating that they would consult and revert back to the state government.
However, the appointment of a common name as the new interlocutor -- as agreed in the tripartite talks between the government of India, government of West Bengal and the Gorkha Janmukti Morcha -- is not going to be easy.
A senior journalist from West Bengal said that the name acceptable to Congress and Trinamool Congress would be shot down by the ruling Communist Party of India-Marxist government, and likewise the name suggested by the Gorkha Mukti Morcha could be shot down by some one else.
With inputs from our Delhi Correspondent
Image: Schoolgirls walk past a graffiti demanding a state of Gorkhaland at Sukuna village in Darjeeling on October 23, 2008.
Photograph: Rupak De Chowdhuri / Reuters