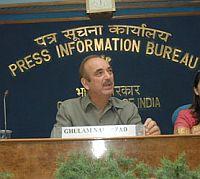 With a surge in swine flu cases across the country, the government on Monday decided to allow private labs to conduct tests of suspected cases in accordance with the guidelines issued by it and stockpile another 2 crore tablets of Tamiflu to check spread of the disease.
It also decided to send around 35 Additional and Joint Secretaries from various ministries, along with Health Ministry officials, to states to brief them about the steps to spruce up the healthcare infrastructure.
Addressing a press conference, Union Health Minister Ghulam Nabi Azad said the ministry has finalised guidelines to allow private labs to conduct tests for swine flu.
"We have finalised the guidelines for allowing private labs to conduct tests. We have sent those to state governments. Once the private labs meet the guideline requirements, states can allow them (to carry out tests)," he said.
Briefing mediapersons on the discussions he held with Cabinet Secretary K M Chandrasekhar and top officials of the ministry, he said more thermal scanners would be installed at all international airports.
Azad said the government will procure an additional 2 crore capsules of Tamiflu as the current stockpile of 1 crore has been sent to various states. "We will stockpile another 2 crore Tamiflu and procure 22,000 medical kits (used to detect the swine flu)," Azad said.
The Union health ministry would launch website on Swine Flu in one or two days, so that the general public could get information regarding various aspects of the deadly disease, Health Minister Ghulam Nabi Azad said on Monday.

"The situation is lot better in case of India and we have not given up. The number of deaths is less then ten," he said.
Azad also said that three private companies have been enlisted to produce the swine flu vaccine. "But the gestation period is five to six months. If some other company comes up with vaccine, we would procure," the minister added.
With inputs from PTI
Image: Union Health Minister Ghulam Nabi Azad briefing mediapersons in New Delhi on Monday
Photograph courtsey: PIB