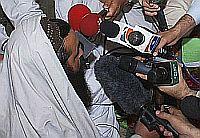 The dreaded Al-Qaeda is trying to install one of its commanders as the new "chief" of Pakistani Taliban, which it fears is in disarray, following the reported slaying of group's leader Baitullah Mehsud in a US missile strike.
Expressing this fear, Pakistani Interior Minister Rehman Malik said that hardcore elements of the Al-Qaeda and Afghan Taliban were alarmed over unconfirmed reports of deadly infighting between Tehrik-e-Taliban factions over who should replace Mehsud.
Malik claimed over BBC radio that the Taliban were fleeing from Waziristan area following the killing of their top commander in Pakistan and hope that through these new developments, the country's tribal and border region would open up.
Malik said all the "credible" information pointed to Mehsud having been killed in Wednesday's missile attack, despite claims to the contrary by the Taliban.
"It will take some time for TTP to regroup," the minister said as he voiced concern over Al-Qaeda grouping at the same place, expressing fear that they might have plans to install one of their commanders as the new chief of Pakistani Taliban.
35-year-old Mehsud's rapid rise in Taliban was attributed by experts to his closeness and links to the Arab dominated Al-Qaeda. They said at times Baitullah had provided sanctuaries to top Al-Qaeda brass including Osama bin Laden.
"Al-Qaeda is trying hard (to place their own commander) and this is very worrying for us," Malik said.
BBC quoted experts as saying that Al-Qaeda is believed to have provided funding to Mehsud, who in turn offered them suicide bombers.
Malik, the BBC said, did not indicate or name any of the Arab commanders to head the Pakistani Taliban. The radio said that it was highly unlikely that the proud Pasthuns would accept any leader from outside.
These reports are coming in as the presence of Afghan Taliban representatives and Arab fighters have been reported in TTP Shura or supreme council meeting on Sunday, who appear to be eager to resolve differences over Mehsud's succession.
Malik questioned that if Mehsud was not dead, why would top Taliban commanders like Hakeemullah Mehsud and Wali-ur-Rehman would have a deadly duel? He also asked why Mehsud is not appearing on TV or releasing any audio/video message to show he is alive? The minister said that the fight in Pakistani Taliban had degenerated into a battle to usurp the huge amount of money that TTP held.
Malik also said that another close confidante and cousin of Mehsud and chief trainer of suicide bombers Qari Hussain was also injured. Qari Hussain is reported to be another contender to replace Mehsud.
Image: File photo of Taliban commander Baitullah Mehsud speaking to reporters in Pakistan's South Waziristan tribal region
Photograph: Reuters
© Copyright 2023 PTI. All rights reserved. Republication or redistribution of PTI content, including by framing or similar means, is expressly prohibited without the prior written consent.