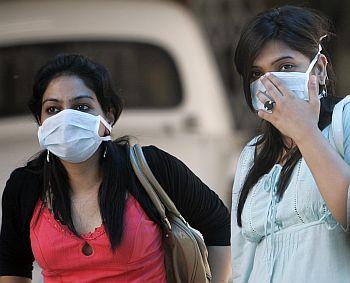 With the city reporting 13 fresh cases of swine flu, the Delhi government on Sunday said it will issue an advisory to all schools to take precautionary measures but appealed to the people not to "panic".
Delhi Chief Minister Shiela Dikshit, who chaired a special cabinet meeting to review the flu situation in the city, told media persons that though some school managements have decided to close their institutions after flu cases, the government "is not issuing any instruction to close schools".
To a question, she also said schools should consult the government before shutting down and there have to be "reasonable grounds" why they should be closed.
"We are issuing an advisory to all city schools on Monday morning, asking them to be careful, ensure that H1N1-flu affected children are not sent to schools. They should identify the symptoms and take precautions," Dikshit said.
The national capital has so far reported 228 cases of swine flu, of which 170 patients have been discharged and 58 are under treatment, she said. Delhi had reported 215 flu cases till Saturday.
"The people of Delhi should not panic that there is a big outbreak of swine flu. But they should take precautions. We appeal to the families of victims to maintain quarantine and wear masks to prevent spread of the disease."

Dikshit said those having flu, even the normal seasonal flu, should contact their doctors but should not take any medicine without prescription as it might be harmful.

"We have designated 14 hospitals -- 11 of Delhi government, two of government of India and one of MCD -- where testing for swine flu is being done and all treatment are being given," she said.
"We are not roping in private hospitals at this moment as this is a special kind of a medicine and a special kind of a test," she said. Asked about the Centre's suggestion on identifying private hospitals, she said the process is on.
"There are two nodal officers who will be available for 24 hours if any advice or help is needed. We have also set up a helpline -- 23921401," Dikshit said.
She asked the citizens to take precautionary measures, especially in relation to quarantine. "If you are the unfortunate victim, you should ensure that you do not spread it and the families should also be careful," the Chief Minister said.

Three-layered masks should be used, she added.


She said there are reports of cases from some schools. "They can close for some time...but we are not issuing instructions...we do not feel the situation has reached a stage where all schools should be closed."
Two city schools -- Sanskriti School and DPS East of Kailash -- have been closed for a week from Monday after a student each from the institution tested positive for swine flu.

Image: Women wearing surgical masks arrive for a H1N1 flu screening at Ram Manohar Lohia hospital in New Delhi
Photograph: Fayaz Kabli/Reuters