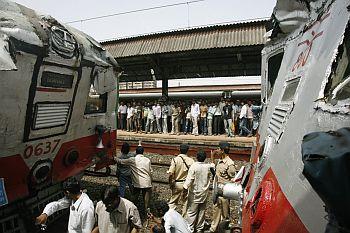 Six persons were injured after a local train collided with a stationary train at Mumbai's suburban Mahim station of Western Railway following a signal failure on Sunday afternoon.
A Borivali-bound train stationed at platform No 1 at the Mahim station was hit by another train which was going to Andheri after there was a failure in signal control, Western railway officials said.
"Six persons who were travelling in the Borivali-bound train have suffered minor bruises. They have been administered first aid by the railway doctor at Mahim," they said.
A woman passenger was taken to a nearby hospital for further medical treatment.
Services on the western line were delayed by 15 to 20 minutes due to the collision.
Photograph: People look at damaged local trains at a platform in Mumbai
Image: Punit Paranjpe/Reuters