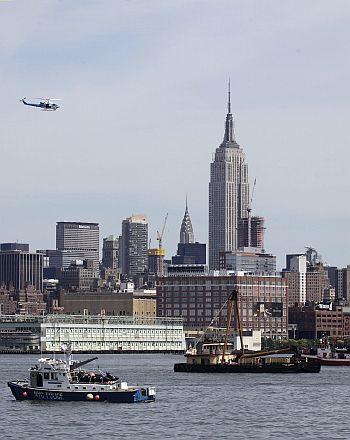 Nine persons were killed when a helicopter carrying a group of Italian tourists had a mid-air collision with a small private plane over the Hudson river in New York, authorities said on Sunday.
The crash, which sent debris flying around and spread panic among people on the New Jersey waterfront, has raised questions about the safety standards of for-hire sightseeing flights, particularly after reports emerged that a federal watchdog earlier warned about lax oversight for such services.

The bodies of two adults and one child were recovered after the collision, which occurred at around noon on Saturday over the Hudson between New York and Hoboken, New Jersey.
All nine people in both aircrafts are thought to have been killed in the collision, New York Mayor Michael Bloomberg said.

"There was an accident which we do not believe was survivable," he said.
Five Italian tourists visiting New York from Bologna are among those believed killed, CNN reported. The tourists, who apparently died with the chopper's pilot, were part of a group of 12 visiting the US, it said citing law enforcement sources.

The helicopter, operated by Liberty Helicopter Sightseeing Tours, rammed into the single-engine Piper PA-32 Saratoga plane that took off from New Jersey's Teterboro Airport, authorities said.
Media reports here identified the owner of the plane as Steven Altman, whose brother and nephew were also among the victims. The helicopter wreckage was found in about 30 feet of water, while the plane is believed to be near the mid-channel point of the Hudson in deeper water.
Witnesses reported seeing debris flying from the helicopter as it crashed.
Witness Arnold Stevens said after the plane had a wing sheared off, it began "corkscrewing" into the water. The helicopter "dropped like a rock" after the collision.
Ben Berman, a former investigator with the National Transportation Safety Board, said if the helicopter fell straight down, it's likely there was a rotor failure. Earlier in January, a US Airways plane with 155 people lost power over New York but the pilot made a successful splash landing in the Hudson and all passengers were rescued.

Image: Rescue officials search the site of a crash between a helicopter and an airplane over the Hudson River, in Hoboken.
Photograph: Cary Horowitz/Reuters