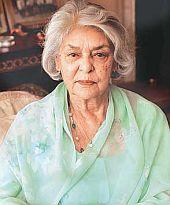 Suspense remained on Sunday over the contents of Jaipur royal Gayatri Devi's will, distributing her assets estimated to be worth Rs 1000 crore, that was expected to be released following the 12th day mourning ritual in Jaipur even as the palace was tightlipped on the matter.
"Only close relatives and known members of the family would attend the meeting to observe 'Dwadasha' on Sunday," City Palace sources said.
However, scores of scribes were camping outside the palace in the hope that her will might be opened following the prayer meet.
U N Bachawat, the Supreme Court-appointed receiver-cum-administrator on royal family properties, is in the city. This has further led to speculation that the wrangling in the royal family over property following the death of the 90-year-old charismatic royal on July 29 might end soon.
On Saturday, Justice Bachawat told media persons that he was in Jaipur 'to pay condolences on the demise of former queen. If there is any issue which comes to my knowledge I will report to the Supreme Court."
The family is reportedly divided into two camps -- one of Devi's grandson Devraj and his sister Lalitya, children of her late son Jagat Singh, and the other of Prithvi Singh and Jai Singh-stepsons of Rajmata, who was the third wife of Sawai Man Singh.
The apex court had appointed a receiver on several properties, including the City Palace, Rajmahal Palace and Laxmivilas Hotel.