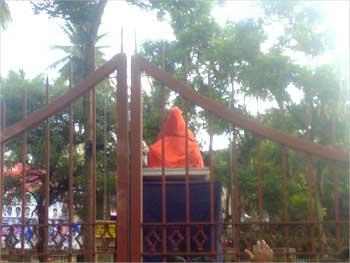 The unveiing of the statue of Tamil poet Tiruvallur in Bengaluru is expected to be a controversial affair. On Saturday, a day before the actual event, security was tight with more 2000 police personnel patrolling the streets of Ulsoor,  the suburb where the staue of the Tamil poet and saint will be unveiled on Sunday.

The police are taking no chances and the statue is heavily guarded even as pro-Kannada activists met to discuss a further course of action. The same activists had stormed out of a meeting convened by Chief Minister B S Yedyurappa on Friday to seek a consensus on this issue. The Karnataka High Court too had thrown out a petition seeking a stay on the event terming it to be anti-Karnataka.

Meanwhile the Tamil dominated population of Ulsoor headed by the Tamil Sangam is geared up for the event. Last minute reparations are on in full swing to ensure that their 18-year dream of unvileing this statue, which has remained covered all these years, is realised.

Chief Ministers of Karnataka B S Yedyurappa and Tamil Nadu CM M Karunanidhi will  take part in the event.

The Bangalore police have arrested the leader of the Karnataka Rakshana Vedike and 40 others as a preventive measure in the wake of the unveiling of the statue on Sunday. Praveen Shetty the president of the Karnataka Rakshana Vedike (Shetty faction) were picked up by the police near the Chitrakala Parishath in Bangalore. The members were planning to disrupt the proceedings tomorow. They had also held a meeting to decide on what course of action was to be taken on Sunday. This is the second set of arrests that the police has undertaken since Saturday in connection with the same issue.

Image: The covered statue of Tamil poet Thiruvalluvar which will be unveiled on Sunday in Bengaluru.
Photograph: Vicky Nanjappa