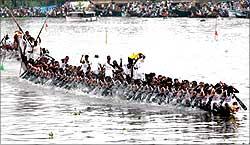 After three months of hectic parliamentary schedule, Congress president Sonia Gandhi will take day off from her busy schedule on Saturday to witness the famed Nehru Trophy Boat Race at Alappuzha in Kerala
It will be a walk down the memory line for Sonia when she lands at Kuttanad where she visited with her husband Rajiv Gandhi  in 1985. They were on a study tour to learn about India after Rajiv became the prime minister.
The couple then took a boat ride through the backwaters and interacted with people from all walks of life. A boat race was specially organised for them at Pulinkunnu in Kuttanad.