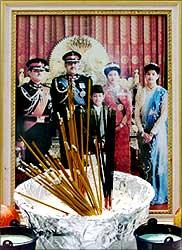 A 65-year-old man, who claimed to have plotted the 2001 royal massacre that left the then Nepalese King Birendra Shah and nine members of his family dead, has been arrested by the police.

Tul Prasad Sherchan was arrested from a guesthouse at Sundhara in Kathmandu on Thursday night, Superintendent of Police, Nawaraj Silwal, said.

Sherchan, who called himself the former 'chief of the Royal Bureau of Intelligence', had claimed at a press conference on Wednesday that he was the mastermind behind the palace massacre.

"We arrested him for investigation purpose as he has claimed to have designed the palace massacre of June 1, 2001," Silwal said.

During the press conference, Sherchan claimed the royal family's extensive irregularities in various sectors and amassing of wealth in foreign banks prompted him to plot the massacre way back in 1975 in London.

He also claimed that he was the chief of the Royal Bureau of Intelligence of the palace, which was the main organisation that designed the killings.

Many people in Nepal dismiss the official probe commission's report that held the then Crown Prince Dipendra responsible for the killings. However, they are also not convinced by the claim made by Serchan. Observers say it could be another tactic to make people confused regarding the real motive behind the massacre.
© Copyright 2023 PTI. All rights reserved. Republication or redistribution of PTI content, including by framing or similar means, is expressly prohibited without the prior written consent.