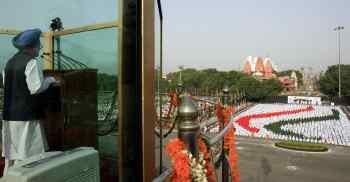 Two suspected Hizbul Mujahideen terrorists, arrested in New Delhi on Thursday night, were planning terror strikes in the city ahead of Independence Day, police sources said on Friday.
Javed Ahmed and Ashiq Ali were apprehended by the Delhi police' elite anti-terror wing from Central Delhi's Daryaganj locality at approximately 11 pm last night. The sources said the two were planning to attack the capital ahead of the national day but refused to give further details.
The police claimed that they recovered two AK-47 rifles, two grenades and around 100 cartridges, besides some documents from the militants, who were in their early 30s. Investigators are yet to ascertain their nationality, but a senior police official said they appeared to be Indians.
The arrest came hours after Union Home Ministry made public intelligence inputs about the Lashkar-e-Tayibaa planning terror attack in three cities -- Delhi, Hyderabad and Kolkata -- ahead of Independence Day. Following intelligence inputs about terror strikes, the Delhi police has deployed hundreds of policemen and paramilitary personnel across the city.
Security agencies are constantly reviewing arrangements at the Red Fort, where Prime Minister Manmohan Singh will unfurl the tricolour. Specialised units like Quick Reaction Teams, Special Weapons and Tactics and Vajra (of the Rapid Action force) are being deployed, an official said.
A file photograph of Prime Minister Manmohan Singh addressing the nation at the historic Red Fort during Independence Day celebrations.
B Mathur/Reuters