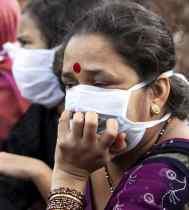 A three-year-old boy, who arrived in Chennai from Colombo on Thursday morning, was referred to a government hospital after he showed symptoms of swine flu.
Officials said the boy, who had arrived along with his family of seven, was found to be suffering from cold and fever.
He was immediately referred to the Communicable Diseases Hospital at Tondiarpet in Chennai.
Image: Women wearing masks wait to receive medical attention for suspected H1N1 influenza at a hospital in Pune
Photograph: Reuters