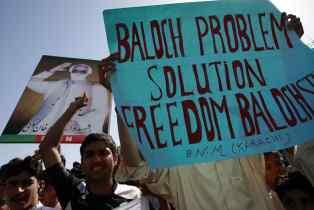 The people who are fighting for the cause and development of Balochistan are patriotic Pakistanis and are falsely accused of being pro-India by those who are against Balochistan, Jamhoori Watan Party chief Shahzain Bugti has said.
Speaking at a seminar 'Threats to National Security and our Responsibilities', he said the Baloch, had they been pro-India, would not have chosen to accede to Pakistan at the time of partition.
Shahzain said the alleged 'Indian interference' was just an excuse to justify a military operation in the province, adding that the government should prove such allegations by disclosing any evidence they may have.
He said the Baloch had been victimised in the past and that the federal government had broken their promises to the province on many occasions.
The Daily Times quoted him as saying that the government had assassinated his grandfather, Akbar Bugti, and added that Islamabad had 'stolen' Gwadar from Balochistan.
He said the federal government had the wrong impression that Balochistan asked for royalty on gas for anything other than the benefit of the province.
Shahzain said it was a tragedy that the gas coming from the province was not available in most parts of Balochistan itself and its price in Balochistan was higher than in Punjab and Sindh.
He said no target killings were being carried out in the province, adding that the Baloch people considered Punjabis as their brothers. 
Image: Supporters of Baluchistan National Party protest during a rally in Karachi
Text: ANI | Photograph: Athar Hussain/Reuters