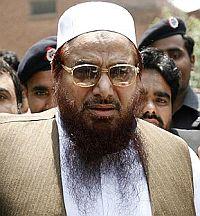 India on Thursday rubbished Pakistan's contention that it was not provided sufficient evidence about involvement of Jamaat-ud Dawa chief Hafiz Saeed in Mumbai attacks, even as it is seeking details about Islamabad's claim about banning outfits like JuD and Jaish-e-Mohammad.
India sees the Pakistani claim about lack of evidence against Saeed as an attempt by Islamabad to build a "firewall" around the Jamaat-ud Dawa chief who is said to have proximity with the establishment, particularly the Inter-Services Intelligence.
Sources in New Delhi said Pakistan has been given "comprehensive" and "detailed" information contained in five dossiers of evidence to pursue prosecution.
The material given to Pakistan includes "legal evidence" and "information about investigation," they said.
To drive home the point, the sources referred to the statement by Home Minister P Chidambaram last week that Pakistan had been given "enough" evidence to prosecute Saeed.
All questions raised by Pakistan have been responded to in detail, they said.
On the ban which Pakistan claimed to have placed on terror outfits like JuD and JeM, Foreign Secretary Nirupama Rao said details had been sought from the Indian High Commission in Islamabad. She refused to speak further on the issue.
Sources said the details given by Pakistan's Interior
Minister Rahman Malik to the National Assembly about the ban are "sketchy" and the High Commission is trying to get details.
India is also trying to verify details about the Interpol notice being issued with regard to 13 absconding Pakistanis in the Mumbai attacks case.
The sources noted that India will be looking for verification of Pakistan's claims.
New Delhi is clear that it will have to engage Islamabad despite knowing well that the road to peace is "accident prone."
Image: Banned organisation Jamaat-ud-Dawaah chief Hafiz Saeed