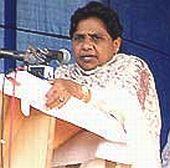 Uttar Pradesh Chief Minister Mayawati on Wednesday said that the top priority of her government is to provide basic amenities to urban poor.
She said that most of the urban poor belong to SC, Backward and poor people of Sarvasamaj and process of urban regeneration would not be possible without providing them basic amenities.
The CM who was reviewing the progress of various schemes being conducted by State Urban Development Authority for urban poor at a high level meeting held at her official residence in Lucknow on Wednesday, said that SUDA should provide basic amenities to urban poor and it should also make efforts to make them self-reliant.
She said that results of various schemes of SUDA have been good, which indicate that efforts of the government were bearing fruits.
During the review meeting it was pointed out that as many as 9.76 lakh people have benefited from facilities like-drains, sewage, drinking water supply and roads in the SC dominated slum areas by local bodies and Rs 9,904.03 lakh were spent by SUDA.
It was also informed that the urban poor living in seven cities of the state were being provided houses with basic facilities under the Jawaharlal Nehru National Urban Renewal Mission.
The poor people living in Agra, Lucknow, Meerut, Mathura, Kanpur Nagar, Allahabad and Varanasi were being provided houses with basic amenities under the scheme.
As many as 68 projects costing Rs 2,341.38 crore have been sanctioned under this scheme, which would last till year 2012. Over 68,000 houses having basic amenities were constructed under this project.
'No parallel between statues of elephant and BSP poll symbol'
Meanwhile, the Bahujan Samaj Party on Wednesday said no parallel could be drawn between statues of elephant installed by the party-led state government in Uttar Pradesh and the party's election symbol.
The statues of elephant installed in different memorials in UP stood "in a welcome posture", party general secretary Satish Chandra Mishra said in a press statement.
"This a part of Indian culture and no parallel between statues standing in welcome posture and the party symbol could be drawn," he said.
Referring to its principal opposition party in UP Samajwadi Party's election symbol of 'cycle', Mishra said, "The BSP government is distributing cycles to girls so that they can go to school riding them. But it was never co-related with the election symbol of Samajwadi Party. Several other parties have also installed statues of elephant for elegance and auspiciousness but no question was raised over the issue."
Mishra said BSP would reply soon to the Election Commission's notice on installation of statues of elephant by the party-led state government in Uttar Pradesh.
"Earlier also, people had filed similar applications before the EC. The position has already been explained to EC on behalf of the party".
He said the reply to EC would be made by the party very soon. Attacking opposition parties, Mishra charged they had become "desperate following the growing strength of BSP." Mishra said opposition parties would not benefit from the issue.