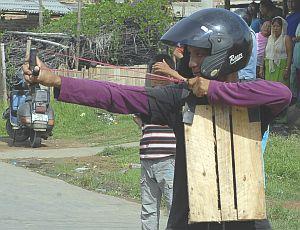 Finally buckling under mounting public protests against July 23 'fake encounter death' of a youth and a pregnant woman in a market area in Imphal city, the Congress-led Manipur government on Wednesday evening announced judicial inquiry into the incident and also suspended six cops' alleged involved in the 'encounter.'
This was announced by Chief Minister Okram Ibobi Singh in Imphal on Wednesday evening. He informed that either a sitting or a retired judge from the Gauhati High Court would head the judicial inquiry. The government has not set any time frame for submission of the report by the inquiry commission.
Manipur government also decided to partially relax the indefinite curfew that was clamped in Greater Imphal area since Tuesday.
The CM said curfew would be relaxed only for four hours from 5 am to 9 am effective from Thursday.
The killing of the youth had almost passed off as just another encounter-death in the insurgency-hit state, if a New Delhi based weekly had not carried a series of photographs apparently showing the sequence of the 'encounter killing.'
The slain youth was identified as Chungkham Sanjit, a former member of the outlawed militant group People's Liberation Army. The killed pregnant woman was identified as one Th Rabina Devi (23) who was inside a medicine shop in an Imphal market when the 'encounter took place' between the youth and the police commandos' as initially informed by the police.

Earlier, indefinite curfew has been clamped in Greater Imphal areas in Manipur including Imphal municipal areas, Imphal West district and Imphal East district to prevent the raging protest from spreading to other parts of the state.

The curfew was clamped on Tuesday, the second day of the statewide general strike called by Apunba Lup, a banner organizations of 30 agitating civil society groups, both in Imphal East and Imphal West districts.
Apunba Lup said it would organize torch rallies in all localities in defiance of the curfew demanding resignation of chief minister Okram Ibobi Singh on moral grounds over the killings of the two innocent persons in a 'fake encounter' and exemplary punishment to police commandos involved.

Opposition political parties had submitted joint memorandum to the Governor Gurbachan Jagat demanding dismissal of Ibobi Singh-led government over the fake encounter killings.

The CM, following the 'encounter deaths' on July 23, told the state assembly that was in session, that a youth suspected to be militant was killed by police in retaliatory fire and that a pregnant woman too was killed in the shootout. He said his statement in the assembly was based on reports received from police.
Image: A protester uses a slingshot to throw stones at police during a curfew in Imphal on Wednesday
Photograph: Reuters