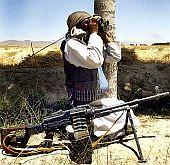 Targetting Pakistani Taliban chief Baitullah Mehsud, United States drones destroyed his father-in-law's house, killing him and the militant commander's wife along with two others in a pre-dawn attack in the lawless tribal belt.
Official sources were quoted by a television news channel as saying that the militant leader's second wife and her father, Malik Ikramuddin, were killed when the drone struck their home near Makeen, a village in a remote area of South Waziristan dominated by the Mehsud tribe.

There was no official word on the development. Pakistani authorities rarely confirm US drone attacks or provide details of casualties.
Reports said the drone fired two missiles at the sprawling compound belonging to Ikramuddin, a cleric, at 12.45 am. Several persons, including two children, were injured in the attack, TV news channels reported.

One of the officials said it was not clear whether Mehsud himself was in the house at the time of the attack. The Tehrik-e-Taliban chief used to visit the house very often.
Taliban fighters cordoned off the area after the missile strike and did not allow people to approach Ikramuddin's house, local residents said.
Earlier reports said Ikramuddin had escaped unhurt. Mehsud, who has no children by his first wife, married Ikramuddin's daughter in November last year.
The US has offered a bounty of five million dollars for Mehsud, who heads the outlawed Tehrik-e-Taliban Pakistan. He is wanted for masterminding several terror attacks, including the December 27, 2007 assassination of former Pakistani Prime Minister Benazir Bhutto in Rawalpindi.
The Pakistan government has offered $615,000 for information on the elusive Mehsud, who is believed to have narrowly escaped a recent drone attack on a funeral march.

Pakistan publicly opposes the US drone attacks, terming them counter-productive for the war on terror and a violation of its sovereignty. However, analysts believe there is a tacit understanding between the US and Pakistan on the attacks.
"Our position has been very clear that drone attacks are a violation of Pakistani sovereignty and differences exist between us and the Americans on this issue," Foreign Office spokesman Abdul Basit said to a question during a press meet soon after Wednesday's missile strike.
The US believes the attacks have been fruitful in weakening the Al-Qaeda leadership but Pakistan feels that the 'collateral damage' or killing of innocent people in such strikes could have a long term adverse impact on the war on terror, Basit said.
In recent weeks, the Pakistani military has bombarded Mehsud's stronghold in South Waziristan with warplanes and artillery. The army said in June that it had deployed additional troops in the region for a push against Mehsud and his network but a ground offensive is yet to be launched.