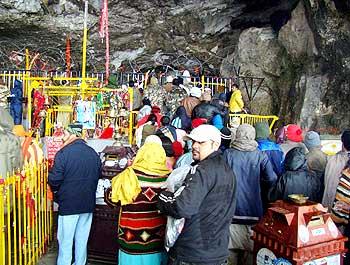 The two-month old Amarnath pilgrimage concluded on Wednesday with a group of devotees carrying the mace of Lord Shiva to the 3,880 metre high cave shrine in South Kashmir.
The mace is carried every year from its abode 'Dashnami Akhara' in Srinagar to the Amarnath shrine during the annual pilgrimage for special prayers.
The holy mace popularly known as 'chhari mubarak', carried by its custodian Mahant Deepinder Giri, reached the shrine on Wednesday morning around 8.45 am and was offered prayers, official sources said.
The event coincides with the festival of Raksha Bandhan being celebrated in many parts of the country.
J&K Governor and Shri Amarnathji Shrine Board Chairman N N Vohra attended the concluding prayers at the shrine.
After the prayers, the 'chhari mubarak' started its return journey and is expected to reach Pahalgam on August 7 where special prayers would be offered before it is taken back to 'Dashnami Akhara', the sources said.
Since the beginning of the yatra on June 15, nearly four lakh pilgrims from across the country have made a journey to the cave, which houses the naturally-formed ice-shivlingam.

Originally slated to start in the first week of June, the yatra was delayed by ten days this year owing to fresh snowfall along the twin routes -- the 16-km Baltal route and the traditional 45-km Pahalgam route.