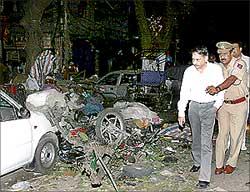 The Supreme Court today stayed the Bombay High Court order directing the  Maharashtra government to place before it the report of Pradhan Committee which probed government's response to 26/11 terror attacks.
The apex court also stayed the high court order directing the Anti-Terrorism Squad(ATS) chief to be personally present before it on August 6.
A bench headed by Chief Justice K G Balakrishnan also stayed the order asking the chief secretary of Maharashtra to file an affidavit on whether or not sufficient equipment and bulletproof jackets were provided to the ATS.
The Maharashtra government had sought stay on the July 23 order of the High Court. The matter has been listed for further hearing on August 21.
The Maharashtra government had constituted a two-member panel comprising former bureaucrat Ram Pradhan and former RAW official V Balachandran to go into different aspects of the Mumbai attacks.
The state government had taken a decision not to table the report in the Assembly and had only come out with the Action Taken Report (ATR) on it.
The high court had passed the order on the PILs filed by Society of Indian Law Firm, Indian Merchants Chamber and Mumbai-based advocate V P Patil seeking to make public the report of the Pradhan Committee and action against top police and intelligence officers for failing to prevent the terror attacks.