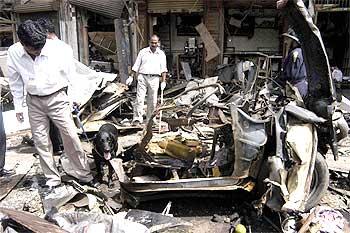 A special Prevention of Terrorism Act court in Mumbai on Tuesday deferred its ruling till August 6 on quantum of sentence to be awarded to three convicts in the 2003 serial bomb blasts case after prosecution demanded death penalty saying they were responsible for killing 54 persons and injuring 244 others.
Among the convicts, a married couple, Hanif Sayed Anees and his wife Fahmida asked for lenient punishment while another convict Arshat Ansari said he was not guilty of the crime and the verdict was not acceptable to him.
The trio were held guilty of planting two bombs that exploded at the Gateway of India and Zaveri Bazaar on August 25, 2003, claiming 52 lives and injuring 244. They had also planted a bomb on July 28, 2003 in a municipal bus in suburban Ghatkopar which killed two persons.
This is for the first time a couple have been found guilty of terror acts under POTA. When judge M R Puranik asked the convicts what they had to say, Ansari replied, Mujhe manzoor Nahim Hai (the verdict is unacceptable to me).

Fahmida said, "I have not done anything. Ek aurat ko atankwadi tehrare ho. Meri bachi bhi lawaris hai (You are treating a woman as terrorist. My child has become an orphan)."
Special Public Prosecutor Ujjwal Nikam said the trio had carried out designs of Laskhar-e-Tayiba to create terror in India by carrying out explosions in various places in Mumbai.
It was the rarest of the rare case and they should be given death penalty.
Citing supreme court judgments to demand death penalty, prosecutor Nikam argued that the convicts were exceptionally cruel and had total disregard for human lives. Fahimida, although a woman, participated in the crime willingly and no one had compelled her to assist her husband in terrorist acts.
Defence lawyer Sudeep Pasbola said Fahmida came from lower strata of society and had children to look after. She came from a traditional Muslim family where males dominate. Fahmida had merely followed her husband in the crime as she had no choice. She deserves lesser punishment, he argued.
Lawyer Wahab Khan argued that Hanif did not have criminal antecedents. He had gone to Dubai to earn bread and butter but was lured into conspiracy by Pakistani nationals after he was shown CDs of atrocities on Muslims. He sought lifer for Hanif.

According to the prosecution, LeT had used a family for the first time to trigger bomb blasts in Mumbai. LeT's role was bared by an accused-turned-approver who told the court that the conspiracy meeting was held in Dubai. LeT activists had come from Pakistan to attend the meeting, the approver said.
The motive behind the blasts was to seek vengeance for the atrocities meted against the minority community during the Godhra carnage in Gujarat in 2002.
On August 25, 2003 two bombs, which were placed in taxis, exploded and rocked the Gateway of India and Zaveri Bazaar in South Mumbai. Hanif, Nasir and Ansari made bombs at the former's Andheri house. Nasir, a resident of Hyderabad, was killed by police after the blasts in an encounter.

Image: File photo of the blasts that ripped through Zaveri Bazaar
Photograph: Sahil Salvi