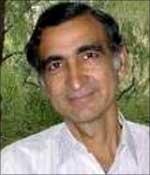 Mumbai's Anti-Terrorism Squad got cracking in Pusad and Akola in Maharashtra, arguing that several Muslim youth were trying to revive the Students Islamic Movement of India. This fact has not gone down too well among Muslims in Maharashtra who feel betrayed for two reasons  -- one is picking up Muslim youth and the other letting the charges under MCOCA slip from Sadhvi Pragya Singh Thakur and others in connection with the Malegaon case.
Dr Ram Puniyani, professor in Biomedical Engineering at the Indian Institute of Technology and member of the EKTA, Committee for Communal Amity, Mumbai, says that such "unnecessary action on part of the police" will only set a dangerous precedent.
In this interview with Vicky Nanjappa, Dr Puniyani speaks about the latest round of arrests and the repurcussions.
You wrote recently that the arrest of a youth allegedly from the SIMI was wrong. How sure are you when you say that these youth are innocent.
I am sure when I say that. If you notice that the arrests have been made in the Vidharbha area in Maharashtra where there has been an increase in communalisation. There are three BJP MPs from this area who are preparing the ground for the next elections. It is part of a process and in the bargain it is the Muslims who are targetted.
Do you accept the fact that the SIMI is trying to revive itself?
I can say for a fact that the SIMI is not trying to revive itself. The organisation is completely defunct. Since the last few years, so many cases have been filed against SIMI activists in connection with terrorism cases. Give me one instance where the charges have been proved correct. The police are not able to prove it but despite that they continue to make arrests.
Intelligence agencies have warned and said that no terror attacks on Indian soil is possible unless there is local support. It has also be proven in the past. What do you say?
I can say with conviction that as far as terror attacks are concerned, the plan never originates in India and that means that the local groups that you are speaking about are not kept in the loop regarding the planning. After my interactions with the youth across the country, I would say that it is impossible that the local Muslims would resort to planning a terror attack in India.
Is that a clean chit?
I am not giving everyone a clean chit. There are some elements. Terror groups in Pakistan tend to pick one or two people from within India to carry out a terror attack. But this does not give anyone the liberty to pick up Muslims and arrest them.
Coming to the Malegaon blast case, what are your thoughts on MCOCA being dropped against the accused?
First, MCOCA is not desirable. It is just a tool used by the police to avoid hard work. Under this act, the police can ensure a conviction based on a confession and we all know how easy it is for the police to obtain a confession. I think every case should be tried on its merits using the right procedure mandated under Indian criminal jurisprudence. Coming back to Malegaon, I have no idea why the police even sought MCOCA in the first place. Then ATS chief Hemant Karkare had done a good job and collected a lot of credible evidence. If the police are sincere, then I am sure that they can obtain a conviction without the help of MCOCA.
How did Muslims react to the Malegaon ruling?
They are obviously demoralised and feel the future is bleak. When this case broke out and the arrests were made, they were happy that the police was being fair. In my opinion, Malegaon was always an open- and-shut case and all it requires is sincerity to ensure a conviction.