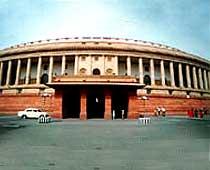 The Bharatiya Janata Party walked out in protest when Lok Sabha Speaker Meira Kumar refused to allow former external affairs minister Yashwant Sinha who wanted to know whether the statement of external affairs minister S M Krishna had broken the protocol by saying that unless Pakistan government takes action against Hafeez Sayeed, master mind behind the Mumbai bomb blast, there was no point in carrying forward any kind of dialogue with Pakistan.
"The stand taken by the external affairs minister is not the same as one taken by Prime Minister Dr Manmohan Singh who studiously avoided any reference to Sayeed," Sushma Swaraj told newsmen at a press conference.
She wanted Dr Singh to come to the house and clarify what was the correct stand. We have union home minister P Chidambaram claiming that he had sent enough dossier and handed over the same to the external affairs ministry to be given to Pakistan.
The information in our opinion is good enough to carry out prosecution against Hafiz Sayeed," Chidambaram said.
Giving details of the Chintan Baithak , Swaraj said that the venue has been shifted to Shimla but the dates would remain unchanged on 17,18 and 19.
"In his wrap-up speech Advaniji asked the party leaders and workers to raise the issue of price rise and joint statement issued at the end of the Sharm-El-Sheikh and take it to the streets. He was happy with the performance of the party leaders," Swaraj said.
With inputs from PTI