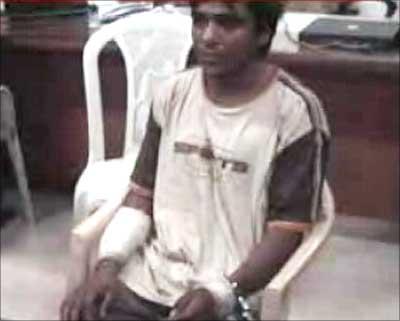 The reports of dental examination and ossification (bone) tests conducted on Mohammed Ajmal Amir Kasab, prime accused in the Mumbai terror attack case have revealed that he was above 20 years, and not a juvenile as claimed by him.
Presenting the medical findings in court on Wednesday, the prosecution told the judge that the report of the dental examination of the lower jaw of Kasab has revealed that the wisdom tooth had erupted and roots developed.
The ossification report reveals that there was complete fusion of bones, indicating that he was above 21 years. The reports were prepared by a panel of four doctors from J J hospital.
In a related development, jail superintendent Swati Sathe and Nair hospital doctors Dr V Ramamurthy told the court that the surviving terrorist has given his age as 21 years when he was brought to them after his arrest in November last year.
Both of them testified before the court as prosecution's witnesses and showed their records, where Kasab's age is mentioned as 21 years.
Dr Ramamurthy identified Kasab in the open court saying he was the same person who was brought in front of him on the night of November 26 terror attack and had given his age as 21 years.

The court has summoned three more witnesses on Wednesday for Kasab's lawyer to cross examine on the point of evidence tendered by the prosecution, that the accused was a major and not a juvenile.
These witnesses are: the doctor who conducted the ossification test, the Casualty Medical Officer (CMO) and record keeper of Nair hospital, where Kasab was admitted with bullet injuries on the night of terror attacks.
Kasab is charged with killing 166 persons and opening fire indiscriminately along with nine others at important locations in Mumbai on November 26 last year.
Following his claim that he was a juvenile at the time of the attack, the court had on April 24 ordered an inquiry to determine whether Kasab, is a juvenile or not.