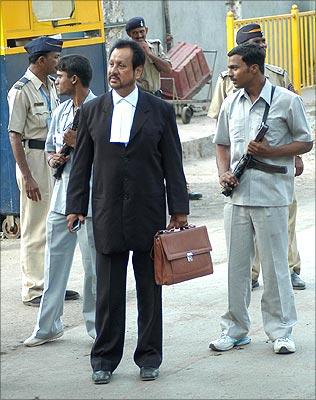 Ajmal Amir Kasab today got a new lawyer, S G Abbas Kazmi, who has defended several accused in the 1993 bomb blasts case.
Special sessions judge M L Tahilyani today appointed Kazmi, a lawyer of 20 years standing, to defend Kasab after the court was informed that there has been no response from Pakistan authorities to Kasab's request for a Pakistani lawyer.
"He is your lawyer," the judge told Kasab pointing at Kazmi, who said he was ready to defend him. Kasab then smiled at his new lawyer.
Kasab had requested for a Pakistani lawyer after the judge yesterday removed Anjali Waghmare as his counsel on a complaint of professional misconduct.
Special public prosecutor Ujwal Nikam informed the court that Kasab's request for a Pakistani lawyer has been forwarded yesterday to the joint secretary of the Ministry of External Affairs (MEA) through a fax message.
 However, there has been no response from the Pakistan side so far, he said.
The judge while appointing Kazmi, requested the government to fix reasonable fee to be paid to him for defending Kasab.
He ordered for a copy of the chargesheet to be given to Kazmi. The court also allowed advocate K P Pawar to assist Kazmi in defending Kasab.
Image: Kasab's lawyer S G Abbas Kazmi | Photograph: Arun Patil