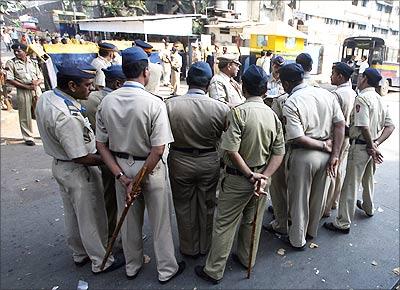 The much-awaited trial in the 26/11 terror attack case is all set to begin in Mumbai today amid high security in a special bomb-proof court inside the city's largest prison.
Ajmal Kasab is accused of being one of the 10 heavily armed militants who undertook a series of commando-style operations across the city, claiming over 150 lives.
The trial will be held inside a 50 ft-tall steel and concrete cage – called anda cell -- which has been built around a special courtroom inside the Arthur Road Jail, where Kasab is being held.
As many as 500 police personnel were deployed on the road leading to the special court set up inside Arthur Road Jail in central Mumbai. One side of the road was closed to traffic. Security personnel in plainclothes were seen moving around the court.
  Indo-Tibetan Border Police (ITBP) personnel, who are also guarding Kasab in the jail, patrolled around the area near the court premises.
 Media persons were checked multiple times prior to entering the court and were not allowed to carry anything on
their person, including notepads and pens. 
A separate enclosure has been created for media vehicles some distance away from the court. No vehicle parking was
allowed anywhere around the court. 
 A special vehicle obtained by the Mumbai Police to scan for explosives has also been pressed into service around the
court.
Police personnel, on duty since 6 am, were seen sending away curious onlookers and pedestrians who stopped by to see
the security convoys of special judge M L Tahilyani and public prosecutor Ujjwal Nikam entering the court.
Meanwhile, some reports indicate that the trial may not begin on Wednesday as the special court has to first decide a petition seeking to debar lawyer Anjali Waghmare from defending the lone surviving gunman, Mohammed Amir Ajmal Kasab, on grounds of "professional misconduct".
Image: Policemen stand guard outside the Arthur Road jail in Mumbai. The stage is set for the crucial trial of Kasab, the key accused in the 26/11 terror attack case.
Photograph: Arko Dutta/Reuters