Everyone loves a winner. It's a reflection of someone you designed yourself to be.
Slumdog Millionaire is about an unexpected winner and the drive behind his spirit while grasping into the psyche of his struggle as well as the source of his million-dollar answers. It's a celebration of love, its impenetrable purity and grit even in the mouth of decomposed garbage and reeking filth.
But most of all it is filmmaking at its breathtaking best that deserves every bit of the gushing response, crazy hype and thundering applause thrown its way. The impact of this little film with a big heart is understandably and triumphantly resonated at the 66th Golden Globe awards ceremony on January 12, where Danny Boyle's thumping romance resulted in four award-winning speeches while everyone else just put their hands together and listened.
And by everyone else, I mean Steven Spielberg, Martin Scorsese, Tom Hanks, Brad Pitt, Johnny Depp, Tom Cruise, Sam Mendes, Leonardo Di Caprio, Kate Winslet, Meryl Streep, Tom Wilkinson and Angelina Jolie. Just the usual Hollywood glitterati, right? Though when mixed up with a flavour of Bollywood, the result is something else.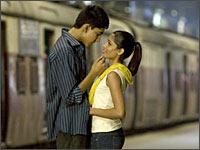 The real thrill, of course, is to watch A R Rahman's name being announced, alas incorrectly (it's neither Raman nor Roohman, people, but Rahman. Like Reh and maan). I mean if they can get Javier Bardem right, this should be a piece of cake, no?
That slightly niggling feeling aside, it was truly a spectacular moment of pride for every Indian and Rahman devotee to hear the master composer's name being called out, first as the nominee and subsequently the winner for his stirring score in Slumdog Millionaire.
'Unbelievable,' the man smiled. He didn't think he would win. That's the humility of a man who has an unblemished reputation of crafting nothing less than awe-inspiring. Well, sir, we did and many, many congratulations on the win. God willing, it's a start of Oscar-sized things to come.
Although one wishes he wasn't so painfully shy and had said some more.
Enter Shah Rukh Khan, one of the star presenters at the awards, made up for the maestro's reticence and co-presenter and Slumdog lady Freida Pinto's (looking stunning, by the way) apparent jitters by doing his swaggering bit. If he's nervous, it doesn't show. The superstar, introduced by the Globes as the 'King of Bollywood' is confident, articulate and good-humoured. Though his 'Indian style pelvic dancing' crack is mostly lost on the Bollywood-ignorant audience, he does well. There's one complaint though. Why is the usually dapper actor wearing his shirt around a tacky, sequinned tie instead of the other way around?
Though it's technically not an Indian production, there's every reason to adopt it as one of our own. Its inspiration comes from Vikas Swarup's book Q and A. It is set in Mumbai's crammed slum populace of Dharavi. It is co-directed by Delhi-based Loveleen Tandon. It boasts of an all-Indian cast (Dev Patel, Freida Pinto, Anil Kapoor, Irrfan Khan along with a bunch of marvellous young actors). Most importantly it celebrates Bollywood (and Mumbai) in ways we had forgotten existed.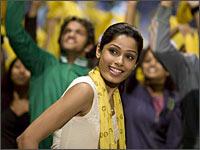 And so when Boyle and Christian Colson, recipients of Best Director and Best Film trophies say (in their speech), 'People in Mumbai, who are all watching by the way', or 'The cast, crew and Mumbai must be going nuts, absolute mental,' they aren't far from the truth.
The sense of euphoria is palpable as friends text each other on messengers, mobiles or go wild updating their status on Facebook and make blog posts enunciating the same, in the early hours of the morning, all to express one and the same thing -- Rahman won! To be honest, I was one of those goose-fleshed maniacs myself. It felt fabulous to have our Rahman awarded with 'Globe'al recognition. Sure, the man doesn't need awards to validate his enormous talent, but the much-desired golden statue never hurt anyone, did it?
Which is why it's heartening to watch Anil Kapoor jump from his seat like a gleeful child and clap for a blushing Boyle when the latter mentions the 'Jhakaas' actor's name in a long list of appreciation.
That's the thing with Slumdog, it makes you feel like a millionaire. Yes, *that* good. For all those who think it shows India in a polluted light, they obviously didn't get the film. It only reiterates the much-referred spirit of Mumbai in all its glory by depicting how an individual can rise from repugnant litter, untouched and go on to succeed. And, Boyle oh Boyle, how!
Loved the movie? Happy about Rahman's win? How did you react to India's presence at the Golden Globes this year? Write to me at verma.sukanya@rediffmail.com