After studying accounting and business in college and graduate school, I've followed what most Indian Americans would call a non-traditional path.
As I write this, I am scrambling to get things done before I head from Chicago, where I live, to Los Angeles for a week to do perform with Siblings of Doctors, a three-person Indian-American comedy troupe of which I'm a member.
Rasika Mathur, a cast member of MTV's Wild 'n Out, is about five-foot-two, weighs about 100 pounds, is gorgeous, and has an exuberant personality that practically bowls you over the second she enters your field of view.
This was my impression the day I first met Rasika, 10 years ago at The Second City Training Center Chicago where we were both taking improvisation classes -- and it still holds. At that time she was a copywriter for a huge advertising firm, and I was a pre-school teacher.
Danny Pudi -- an actor who has appeared on Gilmore Girls and E/R, and currently appears on Greek -- is a tall, skinny, rubber-limbed actor and comedian who has been called an Indian Gumby.
I first saw Danny on a small stage in Chicago about eight years ago.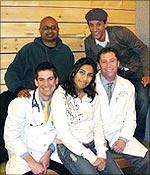 By this time, Rasika and I were working together in an Asian-American comedy troupe called Stir-Friday Night! Stir-Friday Night! was (and is) comprised of about 10 Asian-American comedians of many nationalities including Indian, Chinese, Japanese, Filipino, and Vietnamese.
I introduced myself to Danny after his performance, and soon he joined Stir-Friday Night! And for a couple of years Danny, Rasika, and I worked together as members of that group.
Eventually, both Danny and Rasika moved to Los Angeles and began to find success in television.
I stayed in Chicago and kept writing and acting with Stir-Friday Night! and with Cupid Players (a musical comedy troupe).
After the three of us drifted apart for a few years, last year Danny initiated our getting back in touch and working together. So for the past few months we've been collaborating again.
Collaboration is not easy when two-thirds of the group lives in Los Angeles and one-third in Chicago. We collaborate via e-mail, chat, a yahoogroup, and teleconferencing. At some point, we brainstormed many names for our newfangled comedy trio. We rejected options such as Three Little Indians, Upper Cuts and Punjabs, and Not the Bow and Arrow Kind. And we settled upon the name Siblings of Doctors. We hired a couple of great comedy directors -- John Hildreth in Chicago and Josh Funk in L A -- and we performed for over 700 people over three nights in Chicago and San Francisco, all in January of 2008.
We kept writing and collaborating after that, and now we're preparing for the shows in Los Angeles.
I am now realizing that while what I'm doing may be non-traditional, the way I've gone about it is entirely consistent with the traditional values that my parents inculcated in me.
My parents (and the larger Indian-American community) taught me that the way to succeed is not through short-cuts or 'lucky breaks' (a term of which I'm not fond, hence the sardonic quotation marks), but through focus, through hard work, and through seeking long-term excellence rather than short-term gratification.

And that is exactly how I've approached this work for the past decade, and how I will continue to approach it in the coming years.
Of course, in this work, I also get plenty of short-term gratification: There's an adrenaline rush that you experience when performing comedy for an audience who loves what you're doing, and it truly is like nothing else I've ever experienced.
But rivaling that thrill is the joy of bonding that happens via creative collaboration. When you write and perform with a group of people over a long period of time, the bonds that you form are something special.
So these days I get to experience the joy of writing with people I care deeply about, and the joy of performing on-stage with those same people.
And so I say, here's to tradition. 
Ranjit Souri's columns have appeared in AIM, ByLine, Case, Indian Currents and Khabar. They have also featured on Chicago Public Radio. As a comedy writer his work has been produced on stages throughout the USA. He teaches at The Second City Training Center, StoryStudio Chicago, The Academic Approach, and Northwestern University's Center for Talent Development
For more information about Siblings of Doctors, visit www.siblingsofdoctors.com