Shah Rukh Khan's upcoming Rab Ne Bana Di Jodi is a film that has Bollywood crossing its fingers, en masse.
The thing about Bollywood is that -- despite the moral decay and the black money, the item girls and the plots plagiarised from DVDs, the new-age young directors and their avant-garde cinematographers -- it's so completely old-school, it isn't funny. Or, actually, it is.
And this old school juggernaut we call the Hindi film industry is currently in woeful mood. It hasn't been the best of years, and the hits have been lacking. Several big-ticket productions have tanked, movies filled with so much CGI and effects and such an assortment of stars that there wasn't room for a script, and many films the industry was banking on and selling as 'surefire smash hit blockbusters, 100 percent guaranteed superhits' turned out to fizzle like wet firecrackers.
Showcasing Rab Ne Bana Di Jodi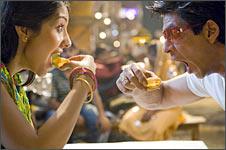 There is no banner that epitomises the Bollywood behemoth better than Yash Raj Films, India's biggest production house responsible for some of the industry's most enduring successes. They are percieved both as the business' Evil Empire as well as its messiah.
For the last couple of years, though, they've been sweating it out. Newcomers have come into the business, banners like UTV and Adlabs have taken over, and their brand of bling-and-bigstar filmmaking has been constantly suffering at the box office. And even as each successive glitzy vehicle disappoints, they've just tried to outbling it and force a hit.
It hasn't worked. Over the last 24 months, they have had several releases ignominously biting the dust. Films like Ta Ra Rum Pum, Jhoom Barabar Jhoom, Laaga Chunari Mein Daag, Aaja Nachle, Tashan, Thoda Pyaar Thoda Magic and Roadside Romeo have all been massively hyped productions featuring A-list stars, and all of them have failed rather miserably to connect with either audiences or critics. Their recent Bachna Ae Haseeno, starring upcoming A-lister Ranbir Kapoor alongside three voluptuous women, made some money, but not like a YRF success usually netted.
Download Ringtones and Wallpapers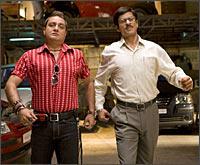 Old-school logic dictates that you just try harder. If the people don't want just another blockbuster, give them one that's even bigger. If a two-heroine film didn't work, let's hit them with four. If they don't want a superstar they're used to seeing, let's bring them in with the greatest heroine of our times making a comeback. It's a bullish rationale that has worked well for YRF in the past, but the public seems jaded now.
Yet YRF persists, and its recent Tashan was a case in point: they brought in the industry's current golden god Akshay Kumar, who seemed to make anything he even sneezed at into a massive hit, and added in the trendiest couple of the season, Saif Ali Khan and Kareena Kapoor.
The music was a wildly successful blast, and all systems were go for the most anticipated film of the summer.
The result? Not just another dud, but the big daddy of disasters. While I maintain the film received unjustly cruel reviews and was mostly misunderstood, there is no escaping the way it not just tanked, but became a present day icon to symbolise the nadir of poor filmmaking. And even Akki couldn't save them.
Now, YRF again decides to put all its eggs into one basket: Rab Ne is directed by Aditya Chopra, the canny producer who directed Bollywood's greatest achievement of the 1990s, Dilwale Dulhaniya Le Jayenge. And it stars the one man who has always clicked with Yash Raj Films, the one man who starred in last year's relatively lesser-hyped hockey film the company didn't expect much from -- and led them to a nation-rallying goal when they needed it most.
The different faces of Shah Rukh Khan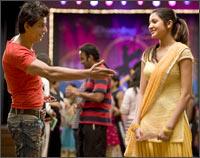 Yet, even they mustn't have expected the need for another tremendous success so quickly. The pressure is building and despite what the industry feels about YRF, all banners need this film to be a success. Mumbai needs a bonafide blockbuster, one that runs for weeks instead of an opening weekend, one where PR-agencies won't have to fudge 'superhit' numbers, one that adds to the quotable-quotes vocabulary we so often indulge in.
And so it's all down to Shah Rukh Khan. Again.
Because despite Dilwale Dulhaniya Le Jayenge, Aditya Chopra clearly isn't a man in form, at least as producer. The only reason there is such reverence -- and, proportionally, such hype -- is because he hasn't made a film since 2000's Mohabbatein, which was his only film other than DDLJ. That was a film justifiably savaged by critics, a maudlin take on Dead Poet's Society, but one can't discount the fact that the Shah Rukh starrer made money. Plus there's the fact that Chopra is notoriously reclusive, a man who hasn't given an interview or made a media appearance for over a decade. He just made the biggest film ever -- DDLJ is still running in a Mumbai theatre to semi-full audiences, more than 600 weeks on -- and vanished.
Rab Ne Bana Di Jodi stars a new girl in the lead, Anushka Sharma. The film's plot has been guarded tooth and nail, and despite the impressive embargo on production, a few details have surfaced. Real or not, we're told the film stars Khan and Sharma as an unhappy couple. He's a square, she's depressed for being with such a square, and, like most of India, she looks to a television reality dance show -- named after the film's couples-are-made-in-heaven title -- for escape.
What she doesn't expect, however, is that Khan dives through the fountain of youth, picks up tight tees and a cool pare of glares, and wins her back through the same TV show. Talk about working on your marriage.
Khan's back up at bat, and despite the two biggest hits of last year -- Chak De! India and Om Shanti Om -- his back is against the wall. But when the industry wants someone to bat for its life, there really isn't anyone else they'd rather have up there.