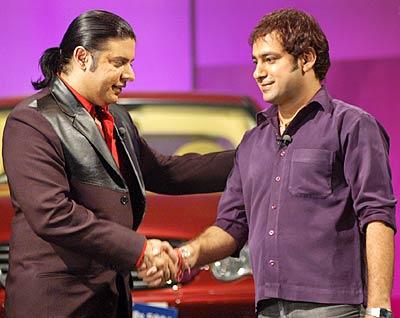 Lady Luck, it seems has smiled bit time at Rahuul Khanna. The Mumbai resident and a budding director bought luxury car Mercedes Benz worth Rs 25 lakhs on Tuesday, November 29, for Rs 500 at Super Sale, a game show on Star One. Sajid Khan, the host of the show presented Khanna with the car. As a bonus, Khanna don't even have to bear any tax liability.
Khanna emerged the inner with a record-breaking score over the past seven episodes of the show.

"It's a dream come true. I am overwhelmed and excited about winning the grand prize," says the ecstatic winner. "I would like to thank Star One, host Sajid Khan and the Super Sale team for their continuous support. By winning this grand prize on Super Sale, I would be able to provide for treatment for my two- year-old son suffering Thalassemia major."

According to Mr Ravi Menon, Head of Programming, Star One, said, "We are very happy that we now have a grand prize winner on Super Sale. The success of the show has been phenomenal and underlines the strength of creative programming at Star One."

Super Sale, airs from Monday to Friday at 8.30 pm. Each episode features three contestants who challenge each other over different rounds to collect Super Sale Rupees to 'buy' attractive items at special Super Sale Prices'.
Familiarity with current affairs and entertainment industry are necessary for the participants to counter queries posed by Sajid Khan.