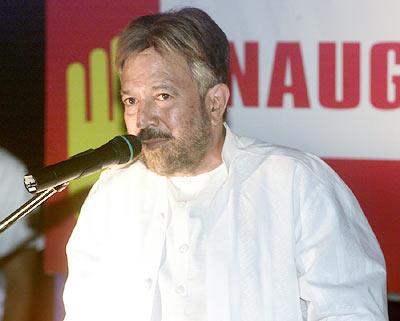 One of the finest selections the IFFI jury this year has made is a retrospective on Hrishikesh Mukherjee movies. The master filmmaker was too ill to attend the opening on Sunday, November 26, but one of his favourite actors Rajesh Khanna was around to inaugurate the proceedings.
The veteran director communicated his gratitude towards the Directorate through a specially recorded audio message, wherein he told the audience that his films "were never about any specific message. I don't consider myself big enough to give people a message. But people should remain happy. The purpose of life," Hrishida added, "is to be happy."
The great filmmaker also mentioned that his favourite movie was Satyakaam.
Rajesh Khanna was warmly affectionate as he recollected memories of working with the master. "I used to work double-shifts at the time, and it meant I hardly had any time to sleep. Hrishida told me, 'Rajesh, ek baat batao... Have you ever seen the sunrise? Or the sunset? Then what good is your work -- kis kaam ka hai ye kaam?' And then he told me what epitomises the spirit in all his films: Zindagi badi honi chahiye, lambi nahin."
Speaking eloquently about the director, Khanna stated that "an icon is always an icon. Hrishida made realistic cinema, which was neither abstruse nor abstract like the art cinema of the times, nor escapist and unrealistic like hardcore mainstream cinema. Like Gautam Buddha, Hrishikesh Mukherjee followed the middle path."
The actor reverentially spoke about how Hrishida started as an editor with Bimal Roy, and achieved the rare distinction of directing all three of Indian cinema's superstars -- Dilip Kumar (Musafir), Raj Kapoor (Anari) and Dev Anand (Asli Naqli). With characteristic modesty, Khanna didn't mention that Hrishida also directed himself and Amitabh Bachchan in their most memorable film roles, but his eyes glossed over with fondness when he mentioned working on Bawarchi.
"Hrishida created cinema of the common man, giving a unique picture of public life." Introducing the opening film, Khanna said that the film was about "a man who wanted to make as many friends as possible, even as every person ironically served as a painful reminder to his fast-approaching death."
The theatre was gratifyingly jam-packed for the Anand screening, with tons of applause and people sitting in the aisles. Good cinema is forever.
Text: Raja Sen in Goa | Photograph: PIB