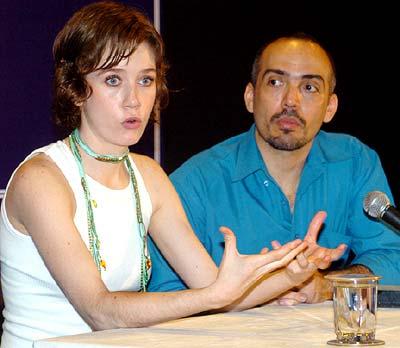 One of the most talked-about films at the ongoing IFFI in Goa is Olga, the Brazilian film directed by Jayme Montjardim, that opened the festival.
While critical opinion on the direction of the biopic is divided, audiences have been charmed by Camila Morgado, who plays real-life revolutionary Olga Benario.
The film is a story of Olga's grievous life and love, and relentlessly depicts the suffering she faced. The bright, attractive girl spoke in fluent Brazilian, effortlessly expressing the inadequacy of mere English, as the film's producer, Helder Dacosta (right) translated for her.
Camila smiled through the compliments thrown at her, and expressed surprise that the film found such large audiences worldwide. "I am surprised, but I am very happy. More people should watch the film, and know about Olga."
Asked if her political ideology mirrored that of the extreme Left-wing Olga, she was clear. "I am very political, but not like Olga. At that time, she was influenced by Marxism and Communism, and this is understandable. But I come from a different generation, and Brazil didn't have such a huge presence in the Second World War."
In an obvious follow-up question, she was quizzed on whether she was in a political party back in Brazil, and she nodded her head furiously. "Yes, I am in the Labour Party. It is not for any other reason, but because I identify with them the most."
"Olga," she feels, "is about the birth and growth of a character's consciousness, her awareness -- in all senses, political, human, and as a woman." Camila expressed that the entire film was a huge challenge, because she had to flesh out Olga as a character. "To start with," Camila laughed, "Olga was 179 cm, and I'm just 169!"
In what seemed like a stock question, someone asked Camila if she would consider doing an Indian film. She smiled and said, "Sure, if I get an offer." The man in the audience said, "Great, then I would like to take this opportunity to offer you a part in my film."
This was the award-winning Malayalam director, Jayaraj, with a very serious proposal. If the filmmaker gets his way, we'll all get to see some more of the striking Brazilian actress.
Text: Raja Sen in Goa | Photograph: PIB