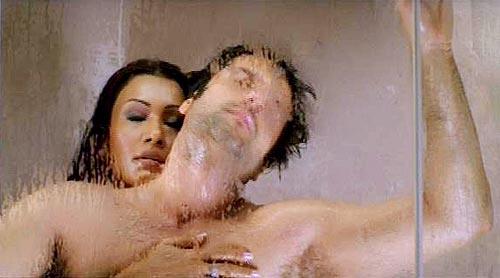 We knew filmmaker Mahesh Bhatt always made news for his films for all the wrong reasons. 
Be it utter lies like Pakistani cricketer Shoaib Akhtar to play the role of Abu Salem in his upcoming Gangster or the kissing controversy involving Pakistani actress Meera in his flop, Nazar. 
"Any kind of publicity is good publicity," Bhatt has always been quoted saying.
Now it seems producer Pritish Nandy likes the idea.
Journalist turned filmmaker Nandy claims he is promoting his latest film Ek Khiladi Ek Hasina via a steamy scene between Fardeen Khan and Koena Mitra on MMS, the Multimedia Messaging Service popular among mobile phone users.
One can expect lots of downloads for the MMS, but there is a hitch. Where does one download this clip? There are no answers. The only way is through mobile short code. For example, legally, you can download from short codes like 7333, 8888, 6388 etc. Nandy does not provide any code, but still expects people to download it. God knows where from.
Secondly, Ek Khiladi Ek Hasina comes with an 'A' certificate. If someone downloads the MMS clip, he or she could be arrested under the Indian Penal Code and Information Technology Act.
So, for now, no one knows how to download the steamy clip. Still, this no-news piece has made news. Long live the filmi publicity machines.
Text: Syed Firdaus Ashraf