Ram Gopal Varma has always refused to run with the rest of Bollywood. Earlier, he was indulgently looked at as a maverick. Today, with the success of his songless Bhoot (Ajay Devgan, Urmila Matondkar, Fardeen Khan, Rekha, Nana Patekar, Seema Biswas, Victor Banerjee), he has again shaken the industry's complacency.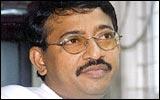 No one expected Bhoot -- which went against many of Bollywood's rigid movie-making conventions -- to do average business, let alone turn out to be a hit!
The ace director speaks to Subhash K Jha about what it means to be a pathbreaker:
Are you surprised Bhoot is a success?
Well, if I went by what the so-called experts had to say, Bhoot didn't stand a chance in hell. If one takes an experimental risk like Bhoot and it is successful, obviously one's faith in what one is doing is reaffirmed. Bhoot, which is a small budget film [Rs 6.5 crore, approximately US $1.39 million], took an opening as huge as any of the big Rs 30-40 crore [$6.4-8.5 million] budget films.
Bhoot is already a winner. Now, it's only a question of the enormity of the profits. The film's budget has been recovered in the first three days. Now I have my Bihar distributor calling to say, "Bhoot proves Ram Gopal Varma has a market in Bihar!" I don't know whether I should be flattered or insulted.
Without doubt, Bhoot is my biggest hit since Rangeela [Aamir Khan, Urmila, Jackie Shroff] eight years ago. I'm especially glad because it comes after two other successes -- Ishq Vishk and Andaaz. The dry spell in Bollywood seems to be over. Now, I'm determined to be more experimental than ever before.
Songless films are said to receive a hostile reception at the box office.
I believe B R Chopra's Kanoon [Ashok Kumar, Rajendra Kumar, Om Prakash] in 1960 was the last songless film that opened to a huge audience. Their other songless film, Ittefaq, came at the peak of Rajesh Khanna's popularity. My own songless horror film Raat [Om Puri, Revathy] was a disaster. For Bhoot, I was told only ghosts would be in the audience. They said, 'The film is called Bhoot, but the promotional clips show no ghosts.' More than being happy for myself, I'm happy for the film industry. Bhoot will bring a tremendous attitudinal change.
Three very different films -- Ishq Vishk, Andaaz and Bhoot -- have clicked one after another. What does it mean for the film industry?
I can't really comment on the other films. But the success of Bhoot will make a helluva difference. The film is shot and treated very differently from the way the industry perceives a potentially successful product. One trade magazine has written that the film has taken a surprisingly big opening. What does that mean? Perhaps they were referring to the unconventional songless format and the way the actors are presented.
A large section of the trade has rigid views on what the audience wants. I think the biggest mistake the film industry can make is to treat the audience like cattle that have fixed notions of acceptable entertainment. If we know so much about what the audience wants, how come 95 per cent of our films flop? Doesn't that prove we know zilch about audience tastes?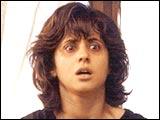 Why do you think Bhoot worked?
It was straight to the point. I had this concept of a direct narration in mind from the time I made Satya. But somewhere I ended up putting songs in Satya and Jungle. I've nothing against songs. Audiences do go to see songs and rich visuals, etc.
In Road, I wanted audiences to have no breathing space to lean back in their seats. Yet, I ended up inserting songs. Hence came the love story and other digressions that ruined the plot.
I feel Bhoot has opened a new genre of cinema. It proves audiences are receptive to all types of films. Who knows, if Hum Aapke Hain Koun..! [Salman Khan, Madhuri Dixit] and Sholay [Sanjeev Kumar, Dharmendra, Amitabh Bachchan, Hema Malini, Jaya Bhaduri, Amjad Khan] had been released simultaneously, they might have both been blockbusters.
As a movie buff, I like The Sound Of Music as much as I like Mackenna's Gold, The Godfather and The Exorcist. So why should I presume my audiences aren't equally open to all kinds of movie entertainment? My firm view is, audiences will go for anything that entertains them. Sitting in our ivory towers, we can't assume the audience isn't mature enough to get the point.
So many years ago, Ramesh Sippy's Sholay or, for that matter, Guru Dutt's cinema set new patterns of editing and shot composition and the audiences accepted them wholeheartedly. I think today's filmmakers make films for distributors and exhibitors who have the money to back projects, rather than for the audience.
So you're putting your money where your mouth is?
You can say that. I broke rules in Bhoot. One of them was the myth that heroes, not heroines, make a film run.
Our leading ladies have been led to believe the audiences come to see their costumes and hairstyles. But look at Kajol. She never cared about her looks. That's why she played characters. In Hollywood, Meryl Streep and Julia Roberts are hardly lookers. Yet, they have a draw. In Bhoot, Urmila broke the mindset about heroines.
Then there's the myth about the length of a film. In Mumbai, we believe every film has to be three hours long, whereas in Hollywood the running time is variable according to the story. Common sense told me to make Bhoot only two hours long. I think it will give other filmmakers the courage to go into different areas and use different formats. Even our male actors are growing aware of their jurisdictions in cinema.
Bruce Willis did only two scenes in Quentin Tarantino's Pulp Fiction. Fardeen does just that in Bhoot. He realises impact has nothing to do with the duration of a role. All the stars in Bhoot -- Ajay, Urmila, Rekha, etc -- have been liked for their unconventional presentation.
The film industry has to stop thinking of itself as a holy shrine that audiences will continue to worship under any circumstance. The audience has other things to do besides wait for movies. They change their minds about what they want to see all the time.
I'm glad Bhoot worked. Not because I feel I've 'shown' the industry, but because it gives me more courage to break the rules and excite the audience even more.
Do you feel triumphant about having taken on Bollywood on your own terms?
My colleagues tell me I've proved a point with Bhoot. But I didn't set out to prove anything. It just happened. It was a chance worth taking because of the restricted budget, and it paid off. A lot of producers will now dare to cross frontiers within restricted budgets. The actors too will feel it's time to do complex roles rather than show off their muscles.
Should actors lower their prices for a film like Bhoot?
Why should they? They're human. The fact that they're being paid huge sums isn't their fault. The day a star turns around and says 'I'm not worth it; why are you paying me so much?', will the producer have an answer?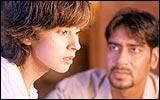 Bhoot is your biggest hit since Rangeela and that was a musical.
Yes, songs aren't the problem. The filmmakers' mindset is. Why did the songless Kanoon work and my own film Raat didn't? Even without songs, they got bored with Raat. The other day I heard of a director who decided to remove the songs from his films after Bhoot [laughs]. I've decided to move ahead with more conviction than ever before. Bhoot liberates filmmakers from a lot of restrictions. Now there're so many ideas that I can implement.
Would you now be tempted to make films within restricted budgets so that you recover your investments quickly?
No, the budget will be dictated entirely by the nature of the product. Bhoot is made in one apartment on a shoestring budget, yet it has taken an opening equal to a film costing Rs 30 crore [$6.4 million]. On the other hand, Sanjay Leela Bhansali's Devdas cost a lot more to make. But it was worth every penny because it enriched our lives. Whether it's Rs 6 crore or 60, it doesn't matter. Bhansali had a vision that needed to be realised. The Blair Witch Project cost only $30,000. But that doesn't mean Ben Hur shouldn't be made.
Are 'formula' films dead?
The formula is an offshoot of the filmmakers' insecurity. They'd rather copy what's successful, for fear of failing. In the 1970s, Manmohan Desai made a huge success of the lost-and-found formula. In the 1990s, there was Hum Aapke Hain Koun..! and Dilwale Dulhania Le Jayenge [Shah Rukh Khan, Kajol]. Those films were huge successes and those who made similar films later said they were making family films because that's what audiences wanted. Actually, they were copying Sooraj Barjatya and Aditya Chopra. Did the audience tell Sooraj and Aditya to make those films?
Now there'll be several Bhoot spinoffs.
Hopefully not Bhoot spinoffs, but shorter songless films. Let me clarify. My next production, Darna Manaa Hai [Saif Ali Khan, Nana Patekar, Revathy, Vivek Oberoi, Shilpa Shetty, Antara Mali], isn't a horror film. I don't know how to categorise it. By the time it releases, I hope I can tell the audience what to expect. In it, I'm shouting from the rooftops to reject everything that's held sacrosanct by the film trade. Let's see how the audience reacts.
I had nothing to do with the shooting of Darna Manaa Hai. I no longer intervene in the productions that I'm not directing.
My next directorial venture, Ek [Amitabh Bachchan, Ajay Devgan, Fardeen Khan, Vivek Oberoi, Nana Patekar], will cost 10 times more than Bhoot. It goes on the floors in September-October.