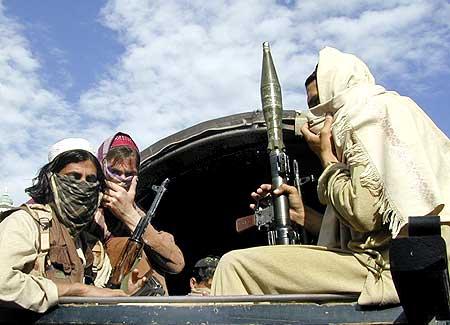 The United States needs to consider an alternative approach to handling 'splintering, renegade' Pakistan and focus on building a good rapport with India, a leading strategic analyst has observed.
In a critical analysis of the US strategy on Pakistan, Ralph Peters -- the author of
Looking for Trouble
and strategic analyst for the conservative Fox News -- television channel in the US, lamented about American policy-makers's incapacity to see beyond the immediate battlefield.
'No matter how shamelessly Pakistan's leaders looted their own country, protected the Taliban, sponsored terror attacks on India, demanded aid and told us to kiss off when we asked for help, we had to back Pakistan, he wrote in the New York Post tabloid newspaper, which, like Fox News, is owned by Rupert Murdoch's News Corp.

'At our pathetic State Department, habit trumps innovation every time. And the Pentagon can't seem to see beyond the immediate battlefield. What should we do? Dump Pakistan. Back India. It's time for some genuine outside-the-box thinking. Because the Pakistani box looks increasingly like a coffin,' he added.
Slamming the US administration for 'supporting Pakistan unreservedly', Peters said, 'Islamabad merrily sponsors terror attacks on India, knowing that America will step in and convince New Delhi not to retaliate.'

'Apart from the myriad Pak-backed terror strikes in Kashmir, we've seen gruesome attacks in New Delhi and, most recently, in Mumbai. Pakistan's intelligence services did everything but put up billboards announcing that they were behind the terrorists. India prepared to strike back. But we stepped in every time,' he added.
Peters suggested that instead Pakistan's 'obsessed India-haters' should be made to realise that terror acts won't go unpunished. Asserting that Pakistan didn't have the wherewithal to deal with a nuclear-armed India, he stated that the US should focus its resources on rebuilding war-torn Afghanistan rather than leaving them at Islamabad's mercy.
'Let India deal with Pakistan. Pakistan would have to behave responsibly at last. Or face nuclear-armed India. And Pakistan's leaders know full well that a nuclear exchange would leave their country a wasteland. India would dust itself off and move on,' he observed.
Image: Pakistani Taliban fighters sit with their weapons on the back of a truck in Buner, about 100 km northwest of Islamabad. Photograph: Reuters