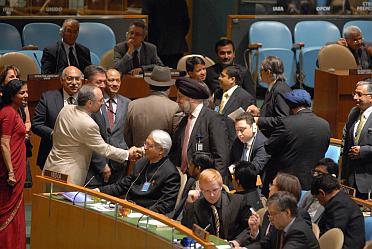 After a gap of 19 years, India was elected as a non-permanent member of the UN Security Council, a position which would help it push more aggressively for the reform of the world body's top organ.

India secured an emphatic win, with 187 of the 191 member states in the General Assembly backing its candidature and one member state abstaining from the vote. India, which is a founding member of the UN, has been on the Council six times earlier, but not since 1992. In 1996, India lost to Japan by a huge margin of 100 votes. This time, however, it is taking over the Asia seat from Japan, being the sole candidate from the region in the race as Kazakhstan pulled out earlier this year.

In the run-up to the vote, External Affairs Minister S M Krishna, who was in New York for 10 days last month, met leaders of a record 56 countries on the margins of the UN General Assembly's annual session. "We have worked hard... we have pushed for every single vote," India's envoy to the UN, Hardeep Singh Puri, told PTI. In February, India's candidature was endorsed by the Asian Group but it still had to get support of 128 countries, two-thirds of the 192 members of the UN General Assembly.

Other "clean slate" candidates included South Africa that got the Africa seat replacing Uganda with the vote of 182 members in its favour, and Colombia, which secured the seat for the Group of Latin American and Caribbean States,replacing Mexico. The elected members take their spots on January 1, 2011 and will serve for two years. South Africa has returned to the Council after a break of two years when it had served its first term from 2007-2008. Colombia, like India, has previously served six terms. The five new countries will be replacing Austria, Japan, Mexico, Turkey and Uganda. The two seats for Western Europe and Others Group were fought for by Canada, Germany and Portugal.

India, which is among the three largest troop contributing countries to the UN, has already highlighted the significance of all the BRIC nations (Brazil, Russia, India and China) being on the Council together, which could present a united front on several contentious international issues. It has also underlined that the IBSA (India, Brazil and South Africa) will also be on the Council together. New Delhi, which is seeking expansion in both the permanent and non-permanent categories of the UN Security Council as part of its reform, is hoping that change comes in the next two years while it is already in the Council.

Image: India's Premanent representative to the UN, Hardeep Puri is congratulated after India was elected to the UNSC. 
Photograph: Paresh Gandhi