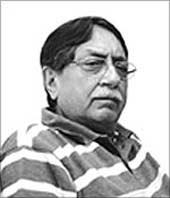 Prime Minister Manmohan Singh is scheduled to visit Srinagar on June 7. There is quiet diplomacy going on between New Delhi and the separatists in Jammu and Kashmir.
A S Dulat
, former chief of the Research and Analysis Wing, India's external intelligence agency and the country's foremost expert on the Kashmir issue, argues that the central government should offer Kashmiri separatists a solution in line with the accord signed by then prime minister Indira Gandhi and Sheikh Abdullah, the legendary Kashmiri leader, in 1975.
Dulat argues that India may agree to some more minor issues and settle the issue by giving Kashmiris peace with honour. However, eminent lawyer and Constitutional expert A G Noorani argued recently against it. He maintains that the 1975 accord triggered militancy in Kashmir.
Dulat, however, thinks that in view of the missed opportunities during then Pakistan president Pervez Musharraf's rule to settle the Kashmir issue it is better to revive the 1975 accord and negotiate something more that giving titles to the Jammu and Kashmir chief minister.
Dulat spoke to rediff.com's Sheela Bhatt.
In view of the coming events between India and Pakistan how do you see the issue of Kashmir?
Well, let me say it is the core issue. Why do we unnecessarily shy away from Kashmir?
I have always believed that Pakistan has more explaining to do on Kashmir than we have. If anything Pakistan has been defensive on Kashmir of late trying to live down Musharraf's initiative.
You would recall (former Pakistan foreign minister Khurshid Mahmood) Kasuri's recent statement in which he claimed that India and Pakistan were a signature away from a settlement on Kashmir. No Pakistani leader has been more reasonable on Kashmir than Musharraf and no other Pakistani leader has given the Kashmiris more hope because he acknowledged that whatever was acceptable to Kashmir should be acceptable to Pakistan.
At the same time he made it clear to the separatists that they would have to prove their representative character. And, he more than hinted to them that they should take what they could get.
Now Pakistan is trying to disown Musharraf by suggesting that he was on a 'solo flight' and had compromised Pakistan's position on Kashmir. But by reverting to its historical position, Pakistan is only suggesting that it was not serious about Kashmir. The separatists in the valley have therefore gone silent.
When you talk of the United Nations resolution, when the world knows that you can't be serious. Even (Pakistan Prime Minister Syed Yousuf Raza) Gilanisaheb does not take that seriously. Everybody who understands Kashmir knows where exactly a settlement can be reached.
What do you think such a settlement could be?
Obviously, it has to be a solution acceptable to India, Pakistan and the Kashmiris. The Kashmiris are ever ready to talk of 1953 (when Sheikh Abdullah's government was dismissed and he was jailed for 11 years), but from India's point of view it may be difficult to put the clock so far back.
Freezing of the LoC (Line of Control, the international border separating the two nations after the 1971 war) and the 1975 accord may be more do-able.
Autonomy, of course, needs to be genuine without compromising India's sovereignty and yet giving Pakistan something to cheer about. We also need to develop a political consensus in the country on a settlement on Kashmir.
Too often, there are discordant notes heard. The bottom-line is that Kashmiris must have peace with honour.
How do you see current engagement between India and Pakistan?
Obviously, it is not at the best. There has been a cooling off since September-October last year. We missed a great opportunity when Musharraf was around and in control.
When the civilian government took charge in Pakistan there was euphoria to begin with, but with the military once again flexing its muscles we are back to the old days and ways.
How does the future look?
The meeting of foreign ministers in Islamabad on July 15 is certainly a positive development. Hopefully, it will help in creating some trust and also to lay possibly the path for an Indo-Pak summit.
How do you see the ground situation in Kashmir today?
Kashmir is fine, but as we know it can change overnight as it has done so often in the past. Quite often it depends on Pakistani intentions. The Union defence minister (A K Antony) has warned of a long hot summer.
When the durbar shifts back to Srinagar (from Jammu, the state's winter capital), it is always a sensitive period. This is also the time when the so-called passes reopen and infiltration increases. But hopefully somebody somewhere would have heard (Kashmir Chief Minister) Omar Abdullah's plea for peaceful tourist season.
One tends to forget Kashmir when the capital shifts to Jammu in the winter, but once the durbar shifts back, Kashmir can only be ignored at one's peril.
How would you rate Omar Abdullah as chief minister?
He is not Sheikh Abdullah nor is he doctorsahib (his father Union Minister Farooq Abdullah). He may not be as flamboyant as his father. As Dr Farooq said Omar is more upfront than older National Conference leaders and in many ways still his father's son.
Times are changing. Omar is certainly the future of Kashmir till the separatists can demonstrate some political gumption.
You are said to have a special relationship with the Abdullahs.
It has been a long association. Dr Farooq Abdullah is not only the tallest of Kashmiri leaders but the kindest and most endearing of personalities.
A last word...
Silence can become eerie in Kashmir. We must never stop talking.